Energy Minister Makes Strong Case For AMERI Deal Review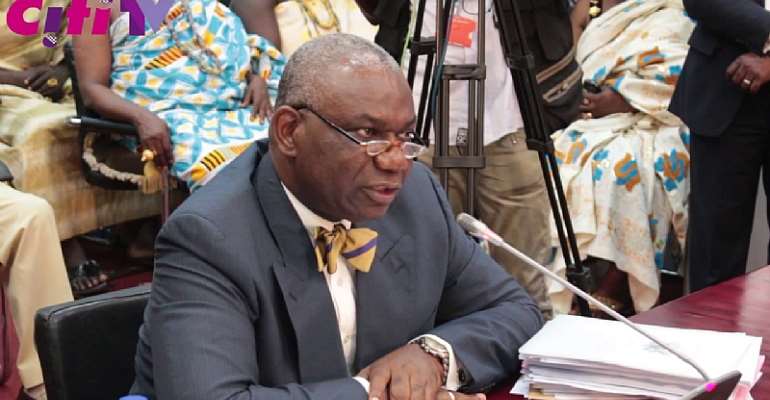 Energy Minister, Boakye Agyarko, wants Parliament to review the terms of the controversial AMERI power deal.
Testifying before the Mines and Energy Committee of Parliament, Boakye Agyarko said immediately after the ratification of the deal by Parliament in August 2015, some already agreed terms were changed which should have gone back to Parliament.
He thus supports any move by Parliament to review the decision it took two years ago.
Making his case before Parliament, Mr. Agyarko said: "the key highlights if I may determine or if it is within my province to determine, will be the choices that we made. I think whether we buy outright, whether we lease or whether we go into a build operate and transfer (BOT), of interest also is the question of pricing, and the quality of the financial and economic analysis that is weighed in this matter of such gravity. The nation's money of over 500 million dollars is being put in an asset. One would have wished that it will attract the highest quality of investigation in terms of its financial and economic analysis. The synopsis also tracks a number of flip-flops."
"In my mind, if Parliament approves or ratifies a document, and there are major changes to the document, It stands to reason that it goes back to Parliament for a review, otherwise Parliament will approve a document only to find out that changes, amendments have been made without their consent . That is something that must lend itself to investigation" he argued.
AMERI in its agreement with Government dated February 10th, 2015, reportedly charged Ghana significantly higher than what it was charged by the Turkish registered company, PPR, which financed and executed the project.
The Turkish firm pegged the total cost of the project at a maximum of $360 million.
However, in the Build Operate Own Transfer (BOOT) agreement signed between the government and AMERI, the deal was pegged at a minimum of 510 million dollars leaving Ameri with a commission of $150 million.
The company was to provide Ghana with 300MW of energy to help improve the country's energy situation.
Withdraw AMERI deal – K.T Hammond
Although the Energy Minister backs calls for the deal to be reviewed, the Adansi Asokwa Member of Parliament, K. T Hammond, who was the ranking member of the Energy Committee of Parliament when the deal was signed, filed an urgent motion i n Parliament to have the deal rescinded.
According to him, this was because of fresh information he had received concerning the agreement which showed that the deal was fraudulent. K.T Hammond revealed on Eyewitness News in August that, Ghana stands to lose that $150 million to AMERI in the deal.
Cancelling AMERI deal will be disservice to Ghana – Donkor
The former Minister of Power , Kwabena Donkor, has however warned that investments into Ghana's economy will be greatly affected if the AMERI power deal is canceled.
"The impact on future investment, if approvals by parliament can be rescinded, when a new government comes in with a new parliament because they have the numbers they rescind it, what will be the impact on Ghana's investment climate?" he asked.
"Already, for developing countries, there is a political risk of investment, and therefore we pay a premium for investment because of perceived political risk. If we aggravate this by rescinding decisions properly approved, because one government is in power, and has numbers to push it through, it will be short-term and it will not be in the national interest, and in my opinion, it will be misleading, I think a rescission will be a disservice to Ghana," he added.
The deal received parliamentary approval on 20th March, 2015, but subsequent details suggested that, the government may have been short-changed by AMERI as they presented an overpriced budget.
Parliament has been reconsidering the deal to possibly reverse it if evidence of the state being shortchanged is found.
–
By: Marian Ansah & Duke Mensah Opoku/citifmonline.com/Ghana