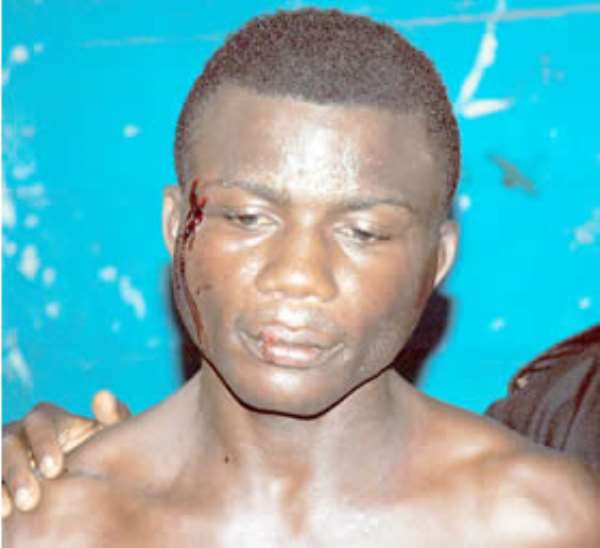 AN accused armed robber being tried alongside Ataa Ayi at the Accra Fast Track High Court for their alleged involvement in a robbery case at Taifa in Accra yesterday admitted the offence but introduced an interesting twist to the trial. He told the court that the real Ataa Ayi had been killed already and that the court might be prosecuting somebody who was already in his grave. "Those I went to commit the robbery with are not here. They are not the people I am standing trial with. I do not know why these people have been brought to court," he told the court after changing his earlier plea of "not guilty" to "guilty". The accused, Nana Yaw Owusu, alias Tonny, told the court that three persons had been arrested in connection with that robbery; he and two others he named as Ataa Ayi and Razak.
He added, however, that after their arrest, Ataa Ayi was beaten to death by the police but he did not know the whereabouts of Razak.
"I do not know why these people were brought to court because after our arrest, Ataa Ayi was beaten to death by the police," he said.
When the case was called, he told the court that he wanted to change his plea from "not guilty" to "guilty with explanation" and when he was allowed to confer with his counsel over the implications of his action, he still maintained his stand.
The other accused persons, were alleged to have robbed a woman of $65,000, ¢45 million and other valuables at Taifa in Accra in February 2003.
All the accused persons, who are on remand, pleaded not guilty to two counts of conspiracy to commit robbery and robbery until yesterday when Tonny decided to change his plea.
Tonny said those being tried with him were not his actual accomplices and that a relative of the woman whose money was stolen, called Kofi Owusu, brought up the plan and informed Stephen that his sister was wicked and had refused to give him money.
Owusu, he said, had informed Ataa Ayi, who also informed him Tonny of their planned day of action but they could not strike on that day and had to postpone it for a week.
On the day of action, Tonny said while Ataa Ayi was on a motorbike, he and the rest whom he said, incidentally bore the names of those in court, were in a car driven by someone he mentioned only as Joe.
"They are not here. Those here are not known by these names," he said and added that he knew those people already but they were not those in court.
Asked how he was arrested, he said he was in the house one day when Stephen Nyarko, through whom he got a land to put up a house led policemen to him that they wanted Ataa Ayi.
He said after his arrest, he mentioned the names of those he committed the crime with to the police and decided to include Stephen because he had brought the police to his house.
After that explanation by Tonny, the court, presided over by Mr Justice P.Baffoe-Bonnie, accepted the plea of "guilty" and accordingly convicted him on both counts of conspiracy and robbery.
Sentence has, however, been deferred until after the trial. The judge ordered that the prison officials should make sure that Tonny did not join the rest of the accused persons anywhere and that if possible he should be transferred from the Nsawam Prisons to another location.
Later, Madam Dora Kumi, the victim of the robbery, narrated, amidst tears, how she was robbed at gunpoint at about 9 pm on February 5, 2003 when she was going home after she had closed from her shop.
She said it was her intention to travel to Cote d' Ivoire, for which reason she had gone to change some cedis into dollars and was going home with two ladies who worked with her when the incident happened.
According to her, while driving to Taifa, on reaching a section of the road around the St John's Grammar School at Achimota on the Nsawam Road, she turned to join the Nsawam old road.
She said she saw a motorbike which was finding it difficult to climb a hill and a car with about four people following them. She stopped, and all of a sudden the men in the car also stopped and surrounded her car wielding guns.
"One of them used his gun to hit the right front side of our car, opened it and threw out the girl seated on the front seat while another man opened the back door and threw out the second girl," she said, adding that another man brought out a black and white pistol and pointed it at her head and said she would be shot if she moved.
Madam Kumi said she looked at the man, whom she identified as Numue, in the eye and pleaded with him to spare her life.
Numue , however, rose to his feet and replied, " Madam, I do not know you".
She said the rest of the robbers who were in masks collected all the items in the car, including the money but before they sped off, they came back to demand a black bag that contained the $65,000 which they took from under her seat. One week after reporting the incident to the police, she said, Tonny was arrested and she was invited to the Police Regional Office where he mentioned the names of his accomplices.
At that stage, tempers flared when the defence counsel raised an objection that the woman was reading from a certain paper. The woman exclaimed, "Do you want to strip me naked? If I were your sister, you would have felt it."
That was after one member of the defence team had gone near the witness box to ascertain whether she was holding a paper, but the objection was overruled.
Madam Kumi said when Lamptey Annan, also known as Sammy Tugah, was arrested, she was invited by the police, and since her brother had brought Tugah to a funeral in her hometown some time in 2002, she did not find it difficult in identifying him.
That brought Sammy Tugah to his feet to protest that he was not known by that name.
"That is not my name sir," he told the court. During cross-examination, Madam Kumi admitted that the incident happened when it was dark but she was able to identify Numue since he was the one who pointed the gun at her.
Also, it was with whom that she pleaded for her life. The case has been adjourned to July 18 to enable the prosecution to locate its witnesses in the case.