Bayport, CFC Savings And Loans Merged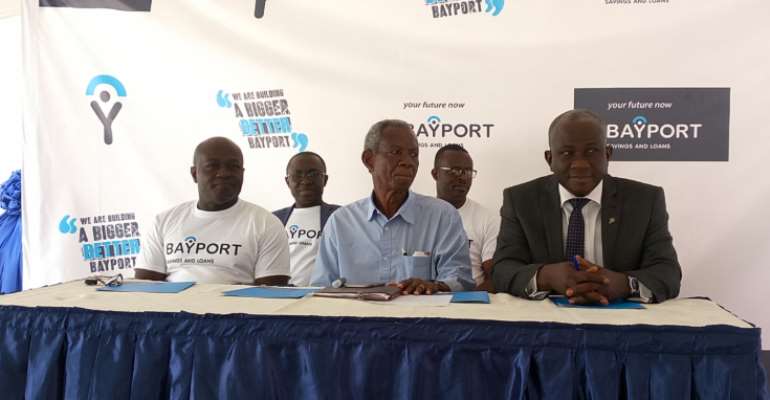 Bayport Financial Services and CFC Savings & Loans have finalized a merger acquisition deal to operate as savings and loans company approved by the Bank of Ghana (BoG).
The two merged companies have the same majority shareholders, Bayport Management Limited based in Mauritius offering similar products to the same target market.
Speaking at a news conference in Accra, the Managing Director of Bayport Savings and Loans Limited, Mr. Kofi Adu-Mensah said having gone through all the necessary stages and processes, they have finally received the Central Bank's approval to consummate the merger.
He noted that the approval was followed by a final licence authorizing the two companies to operate as a Savings and Loans company.
Mr. Adu-Mensah added that the new 'baby' has become bigger and better to meet the financial needs of their customers to allow private sector businesses to grow.
"Our journey to combine the two businesses began some 18 months ago when the shareholders of both businesses decided that combining the resources of Bayport and CFC would enable us to better serve our customers," he stated.
With 52 branches across the nation, the MD indicated that the new Bayport Savings and Loans Limited is in a better position to offer more products and services beyond their traditional payroll loan products for public sector workers.
He intimated that as a company with 15years of experience in the money market, they will continue to maintain and seek to better their delivery speed, convenience and the quality of services.
"With our combined forces, Bayport Savings and Loans Limited now employs more than 800 people on a permanent basis and offers over 2000 sales agents across Ghana the opportunity to earn a living," the MD posited.
The Board Chairman of Bayport Savings and Loans Limited, Kwame Mpianin emphasized that on September 13 2017, the hardwork that went into the merger acquisition was crowned with the Bank of Ghana issuing them a certificate as a Specialised Deposit Institution (SDI) which has increased their regulatory profile.
"With the new privilege we have comes a greater responsibility to safeguard the deposits of small holders," he stated.
Mr. Mpianin urged the new team to scale up their ICT skills and tailor products that will benefit their customers.