Ghana Navy Gets More Logistics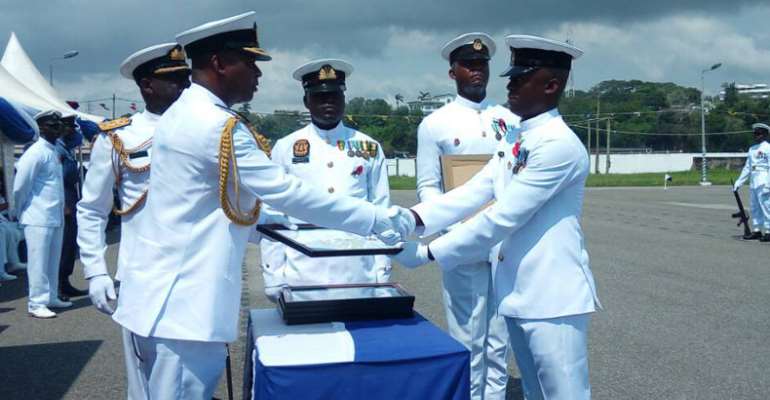 The Chief of Naval Staff, Real Admiral Peter Kofi Faidoo has revealed that his office is working relentlessly to help address all technical and other challenges confronting personnel of the Ghana Navy at the Western Naval Command.
"We are not oblivious of the difficulties you face. We have persistently informed government of your challenges and the government has assured the high command that it would take the necessary measures to address the challenges", he noted.
He revealed that the military high command is procuring the necessary logistics for fleet maintenance to improve all time operational readiness of all ships of the Ghana Navy.
He also indicated that the high command was working vigorously to procure sufficient clothing items of all kinds to meet the ever increasing demand for clothing items by personnel.
"Discussions are also ongoing in connection with residences and other office accommodation for personnel. I have also directed the Flag Officers Commanding to assist with ration cash allowance to improve the quality and quantity of feeding", he added.
Real Admiral Faidoo disclosed this when he addressed an Administrative Inspection Parade organized by personnel of the Western Naval Command at the Sekondi Naval Base yesterday.
The Chief of Naval Staff was at the Sekondi Naval Base for a four-day administrative inspection exercise for the first time since he assumed leadership of the Ghana Navy in January 2016.
The inspection, which is an annual programme, allows the Chief of Naval Staff to stay abreast with the achievements and the challenges of the command so as to take the necessary measures to address them.
The Navy Chief inspected the Sekondi Naval Base, Navy Training School, water break and Naval Dockyard Complex, swimming pool, multipurpose court and gym, the Navy church and the Sekondi barracks.
Real Admiral Faidoo, who expressed his satisfaction, said "I am so impressed with what I have seen despite the limited resources and funds available at your disposal."
He praised personnel of the Western Naval Command for executing all assigned and routine tasks both internally and externally with professionalism, effectiveness and efficiency.
"You have a sound and robust administrative system that is quite responsive to operations. I have also gone round all units within the command to inspect your facilities and I am impressed with what you are doing", he mentioned.
"The recent maritime operations you carried out to protect Ghana's offshore gas installations and facilities before and after the ruling of the Ghana-Cote d'Ivoire maritime boundary disputes were highly commended and recognized by government", he revealed.
He also praised personnel of the Western Naval Command for living in peace and harmony with the civilians in their vicinity.
Some hardworking personnel and civilian employees were rewarded with citations to motivate and spur them on to continue working hard for mother Ghana.