Winners Announced For Maiden West Africa Media Excellence Awards
...Nigeria/Ghana dominate awards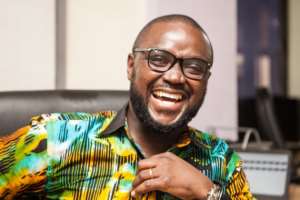 Seth Kwame Boateng of Multimedia Broadcasting Limited, Ghana
Accra, 28 October 2017- The Media Foundation for West Africa (MFWA) has announced the winners of the 2017 West Africa Media Excellence Awards (WAMECA). The awards honour excellence in print, online and broadcast journalism in West Africa.
The ceremony was hosted by Kafui Dey and Selikem Acolatse-Apaloo at the Movenpick Ambassador Hotel, Accra, where presenters included Mr. Perry Okudzeto, Deputy Minister for Information, Ms. Akua Twumasi, External Communications, Tullow Oil Ghana, Hon. Demba Ali Jawo, Minister for Information and Communications Infrastructure of The Gambia.
Seven Awards including the overall best journalist award were presented in front of an audience of over 200 guests, with Seth Kwame Boatengof Multimedia Broadcasting Limited, Ghana receiving the overall West Africa best journalist award.
In the Oil and Gas category Femi Asu of Punch Newspaper, Nigeria, was adjudged the winner.
Sheila Williams, Business Day Ghana Ltd Newspaper,Ghana, took home the award for best journalist in ECOWAS and Regional Integration Reporting.
For his report on "School where prostitutes assist male students to get marks", Alagbe Jesusegun also of Punch Newspaper, Nigeria won the Anti-Corruption Reporting award. Health Reporting was won by Fousseni Saibou of Radio Kanal FM, Togo.
Seth Kwame Boateng of Multimedia Broadcasting Limited, Ghana received the trophy for best Human Rights Reporting.
The best Investigative Reporting accolade was given to Manasseh Azure Awuni, Multimedia Broadcasting Limited,Ghana for his report on the "The President's Ford Gift Story".
Sulemana Braimah, Executive Director of MFWA, said: "Tonight has been a fantastic celebration and acknowledgement of excellent journalism in West Africa. We hope that those attending the ceremony and watching around the world appreciate the efforts that journalist put into a job that sometimes risks their lives and those of loved ones. This evening also showcases talented individuals who are dedicated to working to uphold this important tenet of democracy in a region that is still working to consolidate press freedom. Our finalists are truly inspiring and we look forward to working with them to engage with the next generation of journalists over the coming year.
Participation in this maiden event has been encouraging. Through this event, we've welcomed more guests, engaged with more partners and worked with a dedicated team to ensure that this event becomes a must-attend in the coming years, and enjoyed by all. We look forward to engaging with all of this year's finalists, who have now become ambassadors in our profession."