Hope Army Appeals To Jomoro Assembly Members To Confirm President Nominee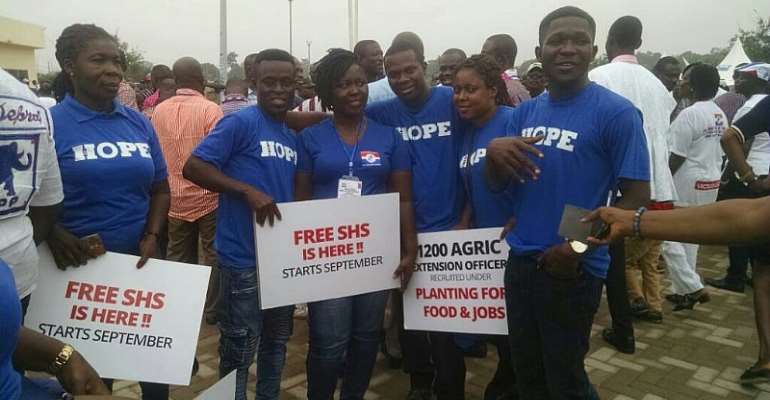 The ruling New Patriotic Party's (NPP) youth group chapter, Hope Army, in the Jomoro Constituency of the Western Region, has appealed to the Honourable Assembly Members of the Jomoro District Assembly to confirm the President's nominee, Mr. Ernest Kwofie as the District Chief Executive (DCE).
Background
President Akufo-Addo through a letter signed by the Local Government Minister, Hon Hajia Alima Mahama on October 17, 2017, nominated Mr. Ernest Kofie the ruling New Patriotic Party's (NPP) Constituency Chairman for Jomoro as DCE nominee for Jomoro District.
Jomoro District has been without a DCE since the NPP took power this year.
Speaking to ModernGhana's Western Correspondent, Daniel Kaku at Half Assini on Sunday October 29, 2017, the Founder and President of the Hope Army, Jomoro Chapter, Nana Alex said the group had outlined several educative and important activities that will help the District but there is no support from the District since the District doesn't have District Chief Executive, and therefore urging the Assembly Members to confirm the President's nominee.
He added that any District without a DCE will not develop rapidly and called on the Assembly Members to think about the development agenda of the District first.
The Jomoro District Assembly is expected to convene on Wednesday, November 1, 2017, in the morning to confirm the President's nominee.
Nana Alex also used the opportunity to appeal to all NPP executives in the constituency and all over the country to support the work of the Hope Army.
He also urged the NPP youth to join a Hope Army Chapter at the various respective constituencies.
"I will be happy if party executives in the party here in Jomoro and other stakeholders of the constituency will support the Hope Army by any means they can", he pleaded.
Source: Daniel Kaku