Comrade Hakeem Is Prime Candidate for Bawumia's 3,000 Arabic-Language Instructors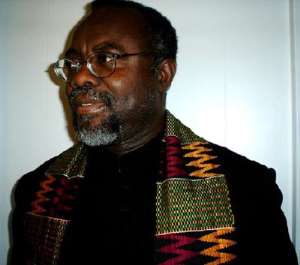 I did not read the first article published on Ghanaweb.com by Mr. Iddrisu Abdul Hakeem (I only perused a paragraph or two and quickly wrote it off as not worth my precious reading time); and I do not intend to go back and read the same, as his marathon tirade against President Addo Dankwa Akufo-Addo says a lot about the author's motive for writing that article. His latest vitriol is titled "What Is the Motivation for These Fruitless, Hasty Decisions Taken by the Government?" Ghanaweb.com 10/28/17).
From the very brazenly public and petulant barbs of Mr. Haruna Iddrisu, the National Democratic Congress' Minority Leader in Parliament and Tamale-South's Member of the House, it is quite stereotypically clear that our northern brothers are inordinately fond of the diarrheal deployment of verbal images and metaphors that involve the human genitalia, both male and female, and perhaps intersexual or hermaphroditic as well.
That, of course, is their democratic choice and right. What, specifically speaking, is not the inalienable democratic right of Mr. Iddrisu Abdul Hakeem (he styles himself as an "MFC Scholar, KNUST," whatever that means) is the lurid presumption that, somehow, he can uncouthly and rudely attack President Akufo-Addo and facilely get away with the same, all in the capricious name of democratic free speech.
Well, the young man got it savagely and absolutely wrong. His self-righteous indignation and patently vacuous castigation of the President, for supposedly meteorically implementing a remarkable percentage of his electioneering campaign promises – whatever such percentage may be – is inexcusably absurd. Mr. Hakeem needs to be told in bold print and upfront that he has absolutely, and I mean absolutely, no right, whatsoever, to presume to dictate for the rest of us, bona fide Ghanaian citizens, the pace of policy implementation by the Akufo-Addo-led government of the New Patriotic Party (NPP).
Indeed, the critic would be far better off concentrating on whatever course of study he is engaged in at the Kwame Nkrumah University of Science and Technology (KNUST) and let mature adult Ghanaian citizens handle the byzantine grind of our national politics. First of all, Mr. Hakeem needs to make good use of his great institution's Writing Laboratories or Writing Centers – if KNUST has any – in order to learn to effectively and stylistically express himself and stop pretending as if he was the best intellectual and/or scholarly material produced by the North ever to have either attended KNUST or any of our major southern tertiary academies.
In terms of the felicitous deployment of the English language, our official language of business and instruction, the would-be Akufo-Addo gadfly is still a greenhorn. He has a passably admirable store of vocabulary, but he is equally in dire need of being able to effectively deploy the same. Now, I am beginning to fully appreciate why otherwise brilliant and formidable intellectuals and scholars like Dr. -Alhaji Mahamudu Bawumia believe that the recruitment of some 3,000 Arabic-language instructors into the northern-half of the country would be the best mode of facilitating the most rapid intellectual development of our northern-born children and grandchildren.
But, of course, any regular consumer of my media fare would fully appreciate the fact that I virulently disagree with the Vice-President. Needless to say, if Dr. Bawumia quixotically persists in carrying out this sinister "Sudan Type" rigging up of the country for an apocalyptic warfare in the near future, he would leave me with absolutely no alternative but to unreservedly support a difference Presidential Candidate, once Nana Akufo-Addo exits the scene. And it would not matter one way or another whether anybody thinks that, once again, a northern-descended Vice-President has been conveniently used as a "Presidential Spare Tire" and been promptly disposed of as a matter of course.
We are talking about principles and the constitutional Separation of Religion and the State here. And the suave likability of a mild-mannered and urbane Alhaji Bawumia would not matter in any way.
Lastly, what is singularly fascinating about Mr. Hakeem's anti-Akufo-Addo tirade is the fact that other than the salutary restoration of the teacher- and nurse-trainees' allowances by President Akufo-Addo, the critic does not highlight any remarkable and/or specific examples of projects being undertaken by Nana Akufo-Addo in "haste" that ought to be given a second look. Mr. Hakeem's only problem appears to be that Nana Akufo-Addo far and away outpaces his political idol and proverbial "North-Star" scandalously by light years. As for that, there is absolutely nothing that any pro-NDC fanatic can do about it.
Indeed, the much-maligned Christocentric "Kabonga" has always proven himself to be ages ahead of his "Halal" northern pro-Saudi and Mecca brother, contrary to what Comrade John Dramani Mahama would have his Amen-Corner supplicants of the "Abongo Boys' Caucus" believe, in terms of political enlightenment and visionary leadership in postcolonial Ghana. The records are there for all to see. Now, don't ask me: "Na who cause am?"
*Visit my blog at: kwameokoampaahoofe.wordpress.com Ghanaffairs
By Kwame Okoampa-Ahoofe, Jr., Ph.D.
English Department, SUNY-Nassau
Garden City, New York
October 28, 2017
E-mail: [email protected]