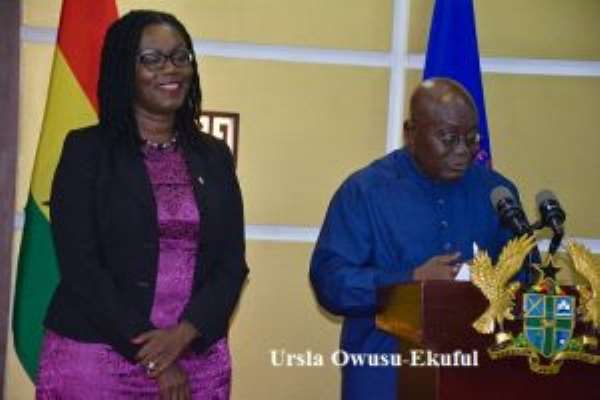 One prays daily for the day when Ghanaians will finally wake up to the dangers posed to our democratic system by the overzealous officials of the regulatory bodies that oversee the media landscape in Ghana.
The question is: Why do such officials never once consider that in seeking to clip the wings of media houses widely percieved in society as anti-Establishment entities, today, they could be providing future tyrants with perfect building-blocks to enable them successfuly muzzle the Ghanaian media in general - and ultimately deny ordinary people the right to express themselves freely publicly?
This blog's humble advice to journalists employed by Radio Gold FM in particular, is to confront the National Communications Authority (NCA) - and the sector minister who says she is even prepared to die ensuring that the absurd imposed mammoth-fines are retained - all the way to the Supreme Court if need be, to stop the NCA and that misguided minister for communications from denying them the right to work.
The company that currently owns Radio Gold FM and Gold TV can then go into liquidation to avoid paying that still outrageous even if reduced steep fine being demanded by the highhanded and unreasonsble NCA - with the active support of the sector minister, who as a lawyer who says she believes in democracy, ought to know better.
To begin with, Radio Gold FM's (and Gold TV's) employees must seize what is a golden opportunity to strike out on their own as media owners themselves too, by doing a deal with the present owners of the radio and television stations that currently employ them, to rent the buildings and equipment of Radio Gold FM and Gold TV.
Once the employee-buyout (for a token sum of say GHc100) is completed, they must then get an injunction from the law courts stopping the NCA from transferring the freqencies allotted to Radio Gold and Gold TV to yet another entity, whiles applications from their Gold Media Cooperative to be assigned Radio Gold's and Gold TV's frequencies are processed by the selfsame NCA.
The ordinary citizens of a nation in which high-level corruption is rampant, and which was once under the jackboots of military dictatorships, must never allow media entities and journalists - no matter how abhorent the content they produce might be to some sections of Ghanaian society - to be muzzled by stealth. In a nation full of fence-sitting moral cowards, it is only the media that can prevent our nation from sliding into a tyranny-by-thugs once again.
As a last-resort-measure to stop the NCA from taking away their constitutionally guaranteed right to air their views freely, like all Ghanaians, if need be, the suggested Gold Media Cooperative's members must be prepared to become operators of pirate radio and television stations - and defy the NCA and shortsighted sector minister that way.
The NCA must never forget that radio frequencies are a public resource belonging to the good people of Ghana on whose behalf it manages them. Period. Finally, the NCA must never be allowed to become an instrument of repression used by the criticism-averse and powerful individuals in the repression-by-stealth-brigade, who are now busy manipulating our byzantine system from the shadows, to silence all potential voices of dissent in our homeland Ghana. Haaba.