Mahama Suggested as 2008 prez candidate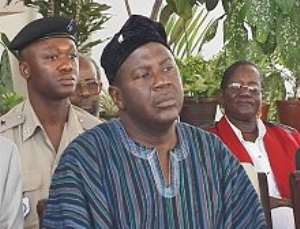 Kumasi, July 4, GNA - Opanin Kwame Afreh, the Ashanti Regional Chairman of the National Reform Party (NRP), has suggested to the leadership of the New Patriotic Party (NPP) to put up Vice President Alhaji Aliu Mahama as the party's sole presidential candidate for 2008 election.
He said the Vice President is a very good man, who has complimented the efforts of President John Agyekum Kufuor to sustain democratic principles and stable leadership of the party and the country as a whole.
Opanin Afreh made the suggestion in an anniversary message in commemoration of the 45th Republic Day celebration issued in Kumasi on Saturday.
The Veep, he said, has done a great job maintaining cordial relationship with the President all these years, adding that, nobody should contest him for the position to avoid disintegration of the party.
The NRP regional chairman called on the government to consider the establishment of an ideological institute, where party activists could be schooled on government policies, particularly the concept of Positive Change One and Two.
He commended President Kufuor and the NPP government for the recognition of the late President Dr Kwame Nkrumah's role in the political history of the country.
Opanin Afreh urged Madam Theresa Kufuor, the First Lady to endeavour to mobilise wives of the late former Heads of State of Ghana to champion their interest in the name of unity and reconciliation. The NRP activist, who called for a review of the divesture of State Owned Enterprises (SOE's) by the National Democratic Congress (NDC), appealed to the National Executive Council (NEC) of the NRP to seriously consider merging with the Convention People's Party (CPP) to champion a common cause.
"The time to merge with the CPP is now", he said and urged the party hierarchy to forget about the NDC, whose stock-in-trade is to cause disintegration of other political traditions.
Opanin Afreh expressed concern about the poor government-press relations and urged President Kufuor to rectify the situation to save the image of the government.
He said, "The government-press ties should be strengthened and ensure strict observation of the rule of law, since any laxity might make the government unpopular in spite of efforts at economic reforms". He appealed to the Ministry of Foreign Affairs to investigate the rampant rejection of visa applicants by foreign embassies, alleging that people are refused visas even if they meet requirements and this does not augur well for co-operation between countries.