Police Accused Of Delays In Mahama's Autopsy Report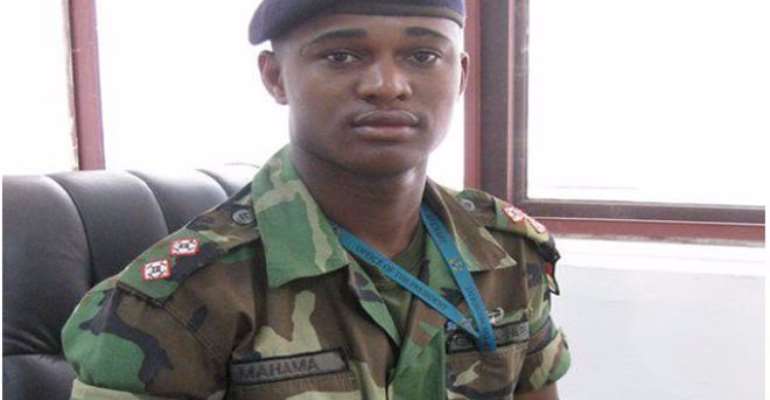 Dr Lawrence Adusei, the Head of Pathology at the 37 Military Hospital, has blamed the delay in the release of the autopsy report on the late Major Maxwell Mahama on the lack of cooperation from the police.
According to him, ever since the body of the slain soldier was brought to the hospital for post-mortem, the police had failed to provide him with the adequate information to carry out the autopsy.
Dr. Adusei, who appeared before an Accra Circuit Court hearing the case of the late soldier, said on the day of the post-mortem, only one police investigator was available and did not appear to have much idea about the incident.
The pathologist, who is carrying out the autopsy on the late Mahama, was ordered by the court to submit the report by the next adjourned date-October 26, 2017 or appear before the court to explain what was causing the delay.
Making an appearance yesterday, he said the police also failed to provide him with important information such as pictures of the crime scene, ballistic report and other information gathered during further investigation.
He added that he only saw the case investigators on October 18, 2017, a week after the court ordered him to release the autopsy report.
Dr. Adusei also told the court that the police have not paid him for the past 10 years for the autopsy reports and appearances in court for them.
But State Prosecutor, Deputy Superintendent of Police (DSP), George Amega, debunked the pathologist's statements that the police were responsible for the undue delays in releasing the autopsy reports, which was crucial to the prosecution of the case.
He said if indeed the pathologist was facing challenges, he should have written to the police with regard to the autopsy of Major Mahama since nothing prevented him from doing so.
He asserted that this was not the first time the police were facing difficulties in obtaining autopsy reports, as there were numerous murder case where the police did not receive autopsy reports.
Dr. Adusei prayed the court to give him three weeks to work on the autopsy report, saying he will need the full cooperation of investigators, crime scene experts and ballistic officials.
The court, presided over by Mr Ebenezer Kweku Ansah, after listening to the submissions of the pathologist and the prosecutor, ordered the Director-General of the Criminal Investigations Department (CID) of the Ghana Police Service to provide all the teams required by the pathologist to carry out the autopsy.
He said that the report must be ready in three weeks.
The case was adjourned to November.
Major Mahama was on a 20-kilometre walk when he was reportedly mistaken for a thief by some women from whom he stopped to buy snails, and was lynched, with part of his body burnt in the process at Denkyira Obuasi.
Some 22 persons have since been arrested in connection with his gruesome murder.