KMA Pulls Down Collapsing 3 Storey Building At Asafo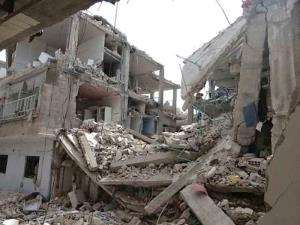 File Photo
The Kumasi Metropolitan Assembly has pulled down the 3 storey building that was sinking and posing danger to human lives at Asafoin the Kumasi Metropolis. It was pulled down by a Brazilian construction firm called Contracta Construction.
The Kumasi Mayor, Osei Assibey Antwi, who was at the scene revealed plans by the Kumasi Metropolitan Authority (KMA) to demolish illegal buildings posing danger to human lives in the metropolis.
"Any property that is found to be unauthorised will go, and any property that is posing threat will also go," he said.
His comment comes after a three-storey building located at Asafo started collapsing in the early hours of Wednesday October 25.It is located behind the railway station in the area.
The pavement around the building had cracked up as the building sank into the ground.
Otec News' Isaac Nsiah Foster reported earlier that the Ghana National Fire Service and officers from the National Disaster Management Organisation (NADMO) were at the scene trying to calm the shop owners.
"The awareness has already been created, because getting to about four months, we have been moving round with you. We have been telling the public. We have been advising them. We have even demolished some of the properties, especially those at Nhyiaeso and Krofrom," he indicated.
Mr Assibey said the KMA hired the services of a Brazilian construction firm, Contracta Construction, to pull down the sinking building.
The KMA Boss stated that no compensation will be given to the owner because the building was a death trap to mankind.