Mahama Receives Commendation As Ex-Nigerian Minister Wins World Food Prize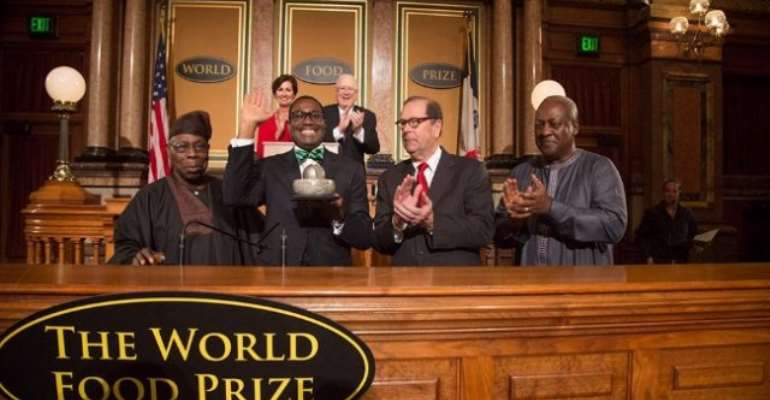 Former President John Mahama has been lauded by the newly crowned winner of the prestigious World Food Prize award Dr Akinwumi Adesina for supporting his career.
Dr. Adesina who is currently President of the African Development Bank (AfDB) was on Thursday decorated as winner of the 2017 World Food Prize which has been described as the agricultural world's version of the Nobel Peace Prize at a colourful ceremony in Iowa State, USA.
Dr. Adesina was awarded for being an innovator in funding and financing of African agriculture.
He becomes the sixth African to win the prize, joining a list of distinguished personalities including former President John Agyekum Kufuor who was jointly awarded with Brazilian President Luiz Inacio Lula da Silva in 2011.
The prize which was started by veteran American Agriculturalist and acclaimed father of the 'Green Revolution' Norman Bourlang is the foremost international honour in agriculture that recognizes achievements of individuals who have advanced human development by improving the quality, quantity or availability of food in the world.
The World Food Prize Foundation noted that through his roles over the past two decades with the Rockefeller Foundation, Alliance for a Green Revolution (AGRA) and Nigerian Agric Ministry, Dr. Adesina has been at the forefront of expanding agricultural production and exponentially increasing the availability of credit for smallholder farmers across the African continent.
Receiving the prize, Dr. Adesina acknowledged a tall list of persons who have helped him achieve the big feet including former Nigerian President Goodluck Jonathan who he served under, and added: "And of course, sitting right here, is President John Mahama who has supported me so much over the years."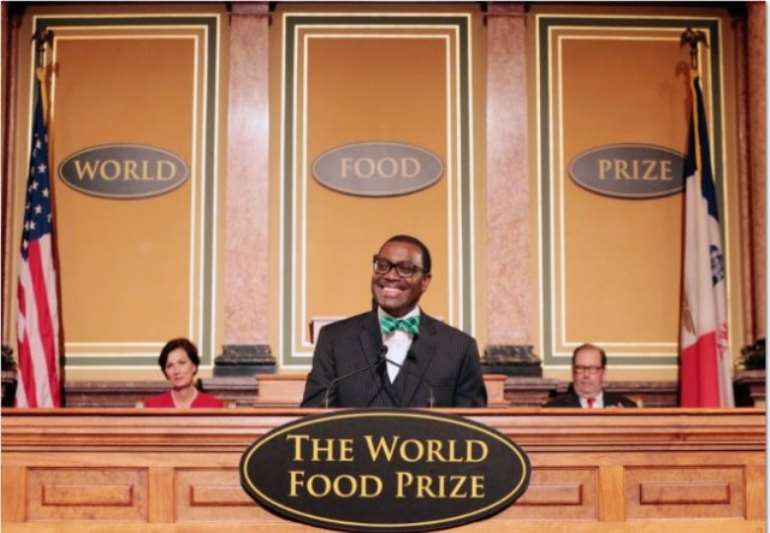 World Food Prize award winner, Dr Akinwumi Adesina
He predicted that Africa will in the next few years overcome the problem of hunger on the continent. "We will arise and feed Africa. A day is coming very soon when the barns of Africa will be filled and all her children will be well fed when millions of farmers will be able to send their kids to school….." Dr. Adesina said.
He walked away with a 250,000 dollar prize money which he promised to use to further boost funding for agriculture. "There will be no rest for me until Africa is able to feed itself… And so, I hereby commit my 250,000 dollars as a cash prize for the WFP award to set up a fund fully dedicated to providing financing for the youth of Africa in agriculture to feed Africa," he said.
Addressing a media briefing after the award ceremony, Dr. Adesina noted a lot more needs to be done to revolutionarise the agricultural sector in Africa. "As president of AfdB, I recognize that we have to rapidly raise the productivity of agriculture in Africa if we are going to be competitive in the world…," he said.
Former President Mahama participated in the event alongside former Nigerian President Olusegun Obasanjo as special guests of honour. President of World Food Prize Foundation, Kenneth Quinn during his speech acknowledged Mr. Mahama's presence. "Please carry back our greetings to your countryman, our 2011 laureate, former president John Kufuor," he said.
US Vice President Mike Pence in a letter to Dr. Adesina commended him for his role in helping develop Africa's Agric sector. "Your devotion to the cause of fighting global hunger is admirable and deeply needed. As the global food system is stretched and the need to feed more people grows, agricultural transformation will require persistence from leaders like you in driving change and capitalizing on public and private sector expertise," the letter said.
"On behalf of President Donald Trump, I extend my heartfelt congratulations as you receive this important award… Thank you for your commitment and contributions to making the world a better place," Mr. Pence concluded.