Playboy E.Guinea vice president faces verdict in Paris graft trial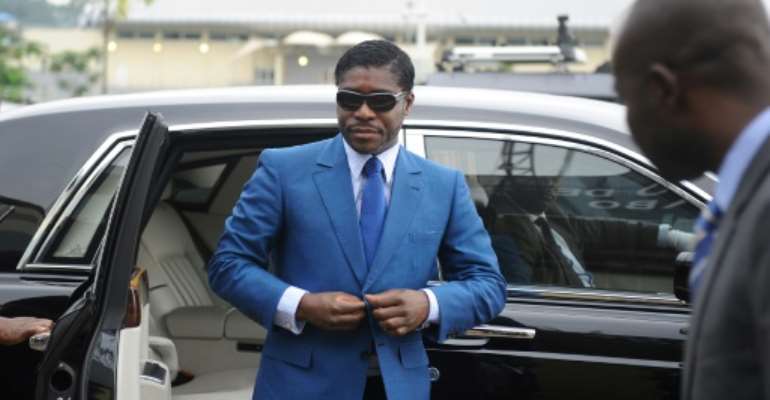 A French court will on Friday hand down a verdict in the landmark "ill-gotten gains" trial of Equatorial Guinea's vice president, who is accused of raiding his country's coffers to fund a jet-set lifestyle in Paris.
Teodorin Obiang, the 48-year-old son of the country's President Teodoro Obiang Nguema, is accused of spending more than 1,000 times his official annual salary on a six-storey mansion in a posh part of Paris, a fleet of fast cars, a collection of luxury suits and artworks.
The case, which was kickstarted by two anti-corruption groups, is the first in a trio targeting families of African leaders accused of living it up in France on the proceeds of corruption.
The entourages of two other long-serving African leaders have also been investigated: late Gabonese leader Omar Bongo and the Republic of Congo's President Denis Sassou Nguesso.
Prosecutors in Obiang's case argue he could not have funded his ultra-luxurious lifestyle without pilfering public money in his west African homeland, where more than half the population lives in abject poverty.
They have called for him to be given a three-year jail term and a 30 million-euro ($35 million) fine if convicted of embezzlement, corruption, misuse of assets and breach of trust.
But it is unlikely the millionaire playboy with a taste for Michael Jackson memorabilia will serve time if convicted.
He did not attend his three-week trial in June and July in Paris and is also not expected in court for the verdict.
He has dismissed the case as a "farce" aimed at damaging the image of sub-Saharan Africa's third-biggest oil producer.
His lawyers accused French authorities of "meddling in the affairs of a sovereign state" and said a guilty verdict would require the court to investigate the legality of all his purchases, taking France beyond its jurisdiction.
Suitcases of cash
Obiang was agriculture and forestry minister before his 75-year-old father -- in power since 1979 -- made him second vice president in 2012 and then first vice president last year.
Many of his eye-popping purchases were allegedly made through Somagui Forestal, a forestry company that prosecutors called "an empty shell used solely to channel public money."
His tastes included sharp suits from Paris's top tailors, whom he paid with suitcases of cash.
Obiang said the money came from legitimate sources and that all his purchases were legal.
Coup plotter
The trial had a moment of drama when former British mercenary Simon Mann, who led a failed 2004 coup in Equatorial Guinea, took to the stand to testify on behalf of the government he tried to overthrow.
Mann, who spent several years in prison in Equatorial Guinea, alleged that the case brought by the NGOs Sherpa and Transparency International bore the imprint of US billionaire George Soros, whom he accused of plotting to overthrow Obiang's father.
The affair first made headlines in 2011 when French police raided Obiang's mansion on the glitzy Avenue Foch in Paris, hiring trucks to haul away a fleet of Bugattis, Ferraris, a Rolls-Royce Phantom and other cars from the scene.
Investigators seized the property a year later.
Prosecutors have asked the court to confiscate the mansion, which is valued at 107 million euros ($123 million).
Equatorial Guinea argues that the building is a diplomatic residence and has referred the matter to the International Court of Justice in The Hague, the UN's top court.
In an interim ruling last year, the UN court ordered France to "take all measures at its disposal" to ensure the property be given the same protections as all other diplomatic locations until the case had been resolved.