Islamic Scholars Focus On Educational Development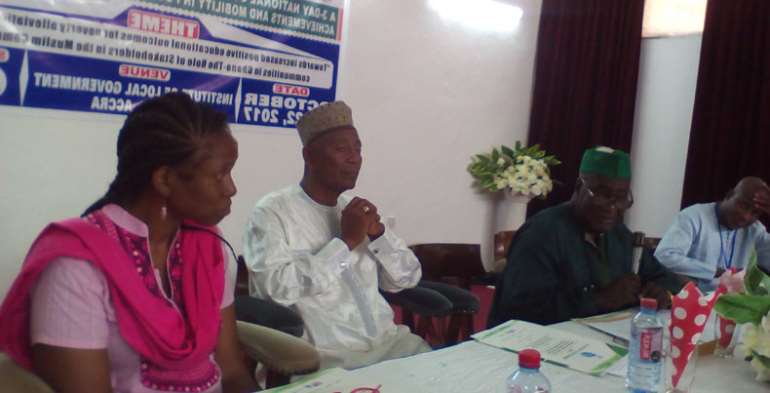 About 98 heads of Islamic institutions, teachers and clerics have resolved to promote education among poor Muslim communities in Ghana after stakeholders' conference.
The three-day event, which was organized by Barak Policy Institute (BPI), was held recently at the Institute of Local Government Studies (ILGS) at Madina in the Greater Accra Region.
It was under the theme, "Towards Increased positive educational outcomes for poverty alleviation in deprived communities in Ghana-The Role of stakeholders in the Muslim Community"
Abubakar Saddique Boniface, Minister for Inner Cities and Zongo Development, commended the organizers of the event for helping to ensure quality education among members of the Muslim community.
The Minister urged them to develop workable strategic plans to enhance education and mobility in deprived Muslim communities.
He reiterated the preparedness of the Ministry to collaborate with BPI to achieve the objectives.
"This conference with such laudable objectives is long overdue for Inner –City and Zongo communities, however let me express my profound appreciation to the USAID and the organizers since nothing is ever too late in life," he remarked.
Yvette Malcioln, Education Officer for United States Agency for International Development (USAID), stated that USAID is partnering the Ministry of Education and the Ghana Education Service (GES) to implement its specialized Learning Project.
According to her, the USAID Learning project targets the training of 31,000 teachers nationwide and is expected to improve reading among 1.1 million Ghanaian children in KG2, Primary 1&2.
"There are many Islamic primary schools, teachers, head teachers and students in the country receiving assistance through the USAID Learning Project, and we are working very closely with the GES, decentralized entities, academia and other stakeholders to train teachers and head teachers to provide quality teaching and learning materials relevant for promoting a culture of reading," she stated.
The Education Officer further mentioned that it's the top priority of the USAID in Ghana to work with government to improve reading and mathematics in primary school.
Haruna Zagoon-Sayeed, Executive Director BPI, said expressed happiness that the conference achieved its objective of identifying some strategies, which will help it initiate activities to boost quality education delivery in Islamic institutions.
"It's unfortunate that a lot of our youth abuse drugs and in our efforts, we will campaign against its use to help them to lead decent lifestyles," he stated.