Brong Ahafo To Get Two Other Regions - Minister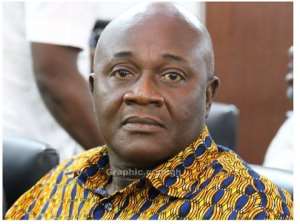 The Minister of Regional Re- Organization and Development Hon Dan Kweku Botwe has said the President Nana Addo received three petitions from Brong Ahafo regions to partition it into three different regions.
According to him, if the commission of inquiry instituted by the President approves it, then Brong Ahafo will be divided into three.
The President of the Republic, Nana Addo Dankwa Akufo-Addo, in accordance with Article 5 of the Constitution, has inaugurated a 9-Member Commission of Inquiry to inquire into the need and substantial demand, and to make recommendations on all the factors involved in the creation of a region or alteration of regional boundaries.
The 9-Member Commission is chaired by Justice S.A. Brobbey, a retired Supreme Court Judge, and has Dr. Grace Bediako, Maulvi Mohammed Bin-Salih, Prof. Kwasi Kwafo Adarkwa, Gladys Tetteh, Robert Ajene, David Wellington Essaw, Prof. George Owusu, and Ms. Josephine Hughes as its members.
President Akufo-Addo, pursuant to paragraph 3 of Constitutional Instrument, No. 105, gazetted on Thursday, 12th October, 2017, also appointed Mr. Jacob Saah, a lawyer with great interest in this aspect of our governance, as the Secretary to the Commission.
The inauguration of the Commission of Inquiry was conducted at the Presidency on Thursday, 19th October, 2017.
It will be recalled that on 26th June, 2017, President Akufo-Addo referred the petitions from persons and organisations in the Western, Volta, Brong Ahafo and Northern Regions to the Council of State for advice.
Subsequently, on 15th August, 2017, the Council of State, after a thorough examination of the matter, unanimously stated that, in its view, there was the need and substantial demand for the creation of new regions, and advised the President to proceed with the processes involving the creation of new Regions.
Speaking to OTECNEWS Hon Dan Kweku Botwe announced that the Commission is working on the three petitions from the three different people in Brong Ahafo and hoped the commission will approve it pave way the creation of two other regions in Brong Ahafo .