President Akufo-Addo Worried Over Rising Cases Of Internet Fraud 'Sakawa'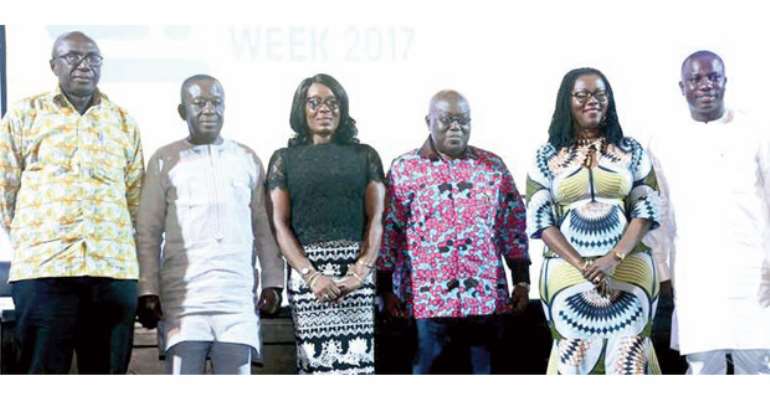 President Akufo-Addo with some of his ministeries at the event yesterday
President Akufo-Addo has expressed grave concern about the growing spate of internet fraud – known in local parlance as 'Sakawa' and other cyber crimes in the country.
Currently, he said, Ghana is experiencing its fair share of cybercrime and cyber security challenges that are home-grown and that cyber crime has become one of the commonest and most pervasive crimes in the country today.
Just last week, three Ghanaians were arrested for internet romance fraud, ripping off their victims to the tune of about £5 million.
Concern
"Ghana now counts among prevalent crimes in the country, website defacements, hacking into banking systems and critical databases, ransom-ware attacks, e-mail fraud, identity theft, SIM box fraud, cyber fraud – normally called 'sakawa' or 419 – and increasingly, the use of identity theft to impersonate government and public officials, and subject them to abuse on social media. Children are also facing increasing risks on the internet, – including risks associated with improper contacts, conduct and contents on the internet" he said at the opening of the National Cyber Security Week in Accra yesterday.
President Akufo-Addo admitted the fact that "the task that we face, therefore, is urgent," indicating that "the fast pace at which technology is developing means that often the law enforcement officials are struggling to keep pace with the law-breakers."
To this end, he insisted, "it is critical, therefore, that those in-charge of protecting our ICT security are well equipped with the knowledge and the expertise to do so."
Interventions
Going forward, he stressed, "the tools and competencies with which we fight crime must necessarily, therefore, change.
"We need to train and have a well-equipped corps of cybercrime fighters, but we should go further than that. I dare say it is time to take another look at the qualifications that we require in a policeman for example."
The president has, therefore, emphasised the urgent need for the Cybercrime Unit of the Police Service to be beefed up to deal with these new threats, saying, "Ghana is transitioning from a traditional economy into an IT-enabled economy."
In the meantime, the Ministry of Communications is said to be working on a number of e-government initiatives, including e-justice, e-immigration, e-passports, e-procurement and tertiary education connectivity initiatives, among others, to transform Ghana's public-sector services.
Whilst he admitted the fact that "The national identification system, the digital addressing system, e-payments, digital financial services and the various e-government initiatives in which we are now taking so much pride, can be brought to a halt or undermined by cybercrime," President Akufo-Addo assured, "My government is, therefore, resolved to address these challenges in order to safeguard our digital journey."
Strategy
He revealed that "we are undertaking specific policy and practical intervention initiatives, including capacity building, international cooperation, judicial enforcement of cybercrime legislations and implementation of technical standards and safeguards."
That, he said, was part of reasons why in July this year, he asked the minister for communications to oversee the implementation of Ghana's National Cyber Security Policy & Strategy (NCSPS).
This, according to him, had led to the adoption of a multi-stakeholder approach, as a foundation for the effective implementation of the various cyber security activities and programmes.
To improve Ghana's cyber security emergency response readiness, President Akufo-Addo indicated, "Government, through the Ministry of Communications, is currently working on the establishment of a dedicated Computer Emergency Response Team (CERT), to protect critical national information infrastructure, and sectorial CERTs for the various sectors of the economy based on international standards and benchmarks.
"We intend to establish a National Cyber Security Centre, as has been done in some other countries, to liaise with relevant state agencies and the private sector to oversee cyber security operations at the national level. This is one of our major priorities in the next few months, as we step up our efforts to secure our digital journey."
By Charles Takyi-Boadu, Presidential Correspondent