Can Africapitalism Lead Africa to the Promised Land?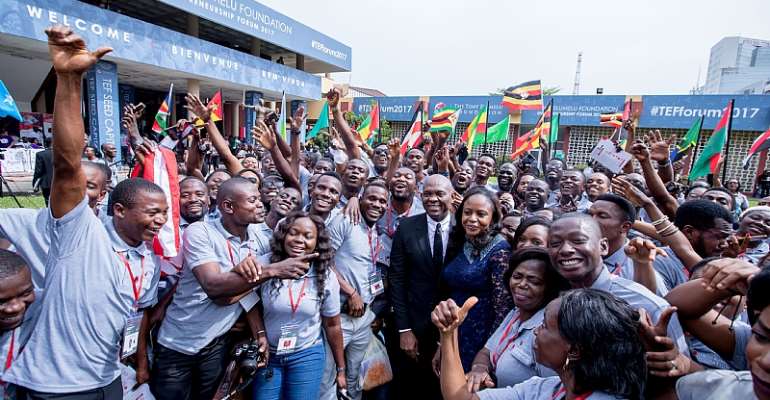 The spirit of Africapitalism is beginning to take roots across Africa, as many private sector players are committed to investing in the youth of Africa.
Just about a week ago, the Tony Elumelu Foundation (TEF), Africa's leading philanthropy dedicated to supporting entrepreneurship wrapped its 3rd annual TEF Entrepreneurship Forum, in Lagos, Nigeria, where more than 1,300 participants from 54 African countries were hosted.
Launched in 2015, the forum was born out of the Foundation's $100 million commitment to identify, train, mentor and fund 10,000 African entrepreneurs, over a decade, through the TEF Entrepreneurship Programme.
The Foundation founded by Tony Elumelu, a Nigerian economist, entrepreneur, and African philanthropist, Chairman of Heirs Holdings, the United Bank for Africa (UBA) Plc and Transcorp, which targets to create a million jobs, and add $10 billion in revenues to Africa's economy, has so far trained, mentored and financially supported over 3,000 young African entrepreneurs for the past three years.
Some of these young entrepreneur businesses have started bearing early fruits. For instance, The Gambian beneficiary of the programme started with a team of a few people to creating employment for some 146 people at his company, Tropingo Foods, a food processing company which focuses on adding value to the fruits industry.
Momarr Taal turned over $1.6 million in 2015 and currently exports to Asia, Europe, among other places. He chalked this feat through the TEF Entrepreneurship Programme that he managed to make his business dream to come a reality.
Interacting with some of the beneficiary entrepreneurs at the just-end TEF Forum , it was emphatic that Africa has tremendous potential entrepreneurs with great and creative ideas that can change the course of the African continent.
It is abundant clear that entrepreneurship is key to achieving poverty reduction and empowering Africans to solve their challenges without dependence on aid from western countries.
These young entrepreneurs are willing to revolutionalise all sector of the economies in their home countries with the enabling power of technologies.
Africapitalism
Mr Elumelu explained that the TEF Entrepreneurship Programme which is the largest African sourced philanthropic gift targeting the entrepreneurial sector was inspired by three guiding principles: the inclusive economic philosophy of 'Africapitalism', based on the belief that a vibrant African-led private sector is the key to unlocking Africa's economic and social potential; commitment to drive African economic growth through the empowering of African entrepreneurship; and a mission to 'institutionalise luck' by creating an environment where African entrepreneurs can get critical elements of support in the early stages of their business life.
"Africapitalism therefore means we cannot leave the business of development up to our governments, donor countries and philanthropic organizations alone," he said. "We in the African private sector must wake up, recognize and embrace our role in driving the economic growth and the social development of Africa, and we must act on that responsibility in tangible ways."
"Entrepreneurs need more eco-systems to succeed in their business operations which will enable them to contribute to the development of the economy".
"Entrepreneurship is the cornerstone to African development and the key to local value creation in Africa. I am determined to ensure that Africa's next generation of entrepreneurs have the platform they need to turn their entrepreneurial aspirations into sustainable businesses that will drive economic growth and job creation across Africa", Mr Elumelu told more than 100 African journalists at the UBA House in Lagos.
The journalists are in Lagos at the invitation of the Tony Elumelu Foundation (TEF) to cover its TEF Entrepreneurship Forum 2017 underway.
Changing Africa's development paradigm
The United Nations Development Programme (UNDP) Regional Service Centre for Africa Director, Lamin Manneh underscored the need to change Africa's development paradigm through investment and entrepreneurship.
He noted: "Supporting the private sector is critical in realising the development targets, predominantly through entrepreneurship. We have to give more attention and support to emerging African entrepreneurs to address poverty, inequality and unemployment challenges facing the continent".
Mr Manneh added that investing in Africa's emerging entrepreneurs will, not only help address inequality, but also stimulate innovative thinking among the youth and help in developing local solutions to local development challenges on the continent.
He argued at the two-day forum that investing in entrepreneurship would drive industrialisation and cause structural transformation in Africa and hence bring about shared prosperity across the continent.
The chief investment officer at Heirs Holdings, Sam Nwanze used the forum to challenge private companies to take the lead in Africa's development journey, saying that's the only sure way to ensure sustainable development on the continent.
"We practice what we are talking about here at Heirs Holdings. We make investments that create both economic and development impact. This is how much private investments can work," he noted.
Promised land is possible with Africapitalism
Mr Elumelu who propounded the Africapitalism, the economic philosophy which is predicated on the belief that Africa's private sector can and must play a leading role in the continent's development,
said their commitment is aligned to the understanding of the immense role that young people would play in the private sector once they are empowered, which would contribute significantly to developing the continent.
"Africa's development, which must be private sector-led and entrepreneurially driven, will have at its heart young African innovators and their transformative ideas. Only they will create the millions of jobs Africa needs," Mr noted.
"We have committed to invest in the next generation of African entrepreneurs because we believe they are the right definition of Africapitalism. We are experiencing the transformative people of private capital in changing the lives of individuals and their communities," he added.
So, the Africapitalism economic philosophy being espoused by Elumelu and other private sector players can truly lead Africa to the promised land of prosperity for all.