Asian Languages To Be Introduced At Regional Maritime University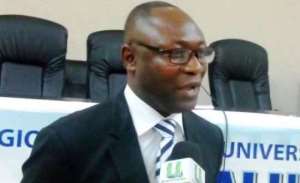 The Regional Maritime University (RMU) is to introduce the study of Asian Languages, such as Chinese and Japanese, as University-Wide courses, beginning from the 2018/2019 academic year.
The course is to equip the University's sea-going students with functional Chinese and Japanese languages to enable them work on board Asian vessels.
It would also enable the non-seagoing students to also take up jobs with Asian owned companies.
Professor Elvis Nyarko, the Vice Chancellor, RMU speaking at the 15th Matriculation ceremony of the University said all students enrolled into the University would learn these languages to at least the intermediate level.
He said a Memorandum of Understanding to give meaning to this idea would soon be entered into with the concerned Embassies.
He said during the 2017/2018 admissions exercise, "we offered admission to 754 applicants from both member and non-member countries out of which 509, which are 67.5 per cent accepted and have thus registered."
He said the number of students enrolled was made up of 422 males (83 per cent) and 87 (17 per cent) females, this was an increase of over 169 students over last year's figure of 340.
He said the University had continued to focus on her pursuit of excellence in teaching, research and service to society as enshrined in their vision and mission.
"Hence RMU continues to pride itself as a globally branded University for education, research and consultancy in maritime and allied fields and also strives to be the best institution in Africa providing world-class education, research and consultancy in maritime to support development in Member States and beyond," he added.
He urged the students to immediately settle down to work and to come out with flying colours.
For them to accomplish this, they needed to attend lectures regularly and on time, carry out all their assignments on time and actively participate in classroom activities, shun deviant behaviour and other vices that could jeopardize their dreams.
The Vice Chancellor said the students must also endeavour to strike a balance between their studies and religious activities.
"In other words, do not spend all your time on religious programmes to the disadvantage of your studies, which is the most important or cardinal reason for being here," he added.
He cautioned the students, that the RMU has zero tolerance for cultism, any form of vandalism and corruption.
He appealed to the students to endeavour to dress modestly at all times and for all occasions and for the ladies, "please cover all the critical and most sensitive parts of your body and remember that you need to maintain your general modest, but attractive turn out, as you have presented yourself this morning."
He said their aim should never be 'to dress to kill', as is commonly said and as for the gentlemen, they know what to do.
"Please try and avoid looking scruffy or even putting on such outfits or outlook on campus at all times," he said.
Mr Daniel Nii Kwartei Titus-Glover, the Deputy Minister for Transport, said the Ministry provided training opportunities for cadets of the RMU.
He said concerning the encroachment on the University's land, the Ministry would engage the Teshie Traditional Council to address the challenges and others raised by management.