The Dilemma Of The Unemployed: Suicide Or Life?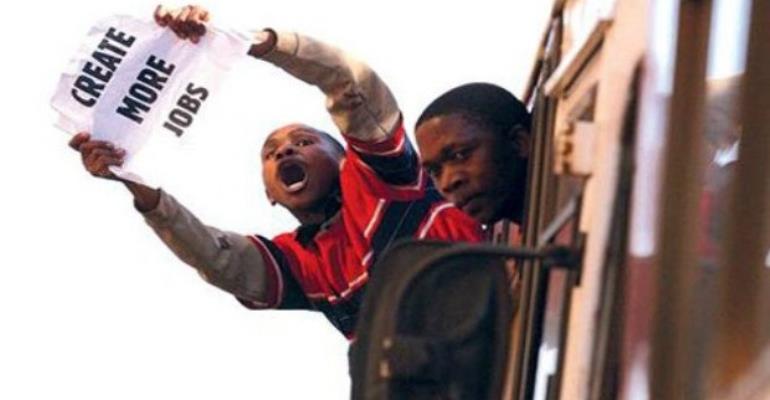 When I first completed school, I had always believed that I could walk into any newsroom and do well. But as the years went by, I began to doubt my capabilities; I began to doubt my capability of becoming a journalist. Even worse, my being fit to be alive even.
I completed journalism school in 2007 (Diploma). To my uttermost shock, I was posted to a senior technical school in the Volta Region to teach for my National Service. Try as I did, this posting was not reversed. So I ended up moving to the school in the Akatsi District with loads of doubts in my mind.
First of all, I have never ever tought before. Secondly, I am such a terrible teacher. Throughout my years of schooling, I struggle to explain any subject to my colleagues whenever they ask me to even if I have full grasps of it. Even after my explanation, I knew they still won't get it because I did such a terrible job of explaining. I am that terrible at teaching. Even worse, I am an introvert and hardly speaks. So how on earth was I suppose to teach those precious teenagers and prepare them to be externally examined?
Well, I took the challenge and gave it my best shot. Some of the subjects l know I did quite well but in others I was terrible. Imagine me teaching General Science a subject I barely passed!
But ooh the students, they were great especially outside the classroom. I particularly enjoyed their confiding in me with their teenage issues.
There is an experience worth sharing. The girls hostel where I lived together with the other female teachers and of course the students, was located in a secluded area. So as we make our daily commute to and from school/town, we(teachers) adopted this strategy of tapping our feet to ward off snakes. And it worked!
One day as I was walking alone through the narrow foot paths, I spotted a snake patiently waiting in the nearby bushes for the tapping feet to pass!!! That was a close shave you may say. And so has my life been after that; a close shave with death.
So national service finally ended. I gave myself a 3-month break after which I started job hunting. For about 2 years, I wrote a number of applications and emails to media houses with no results. When it became apparent that getting a job in the media was problematic, I spread my wings to other industries with no luck. And for 4 solid years, I tried to find a job with no success. Those 4 years were the most depressing of my life.
When it first started, I didn't know what it was. All I knew was this feeling of extreme sadness, hopelessness, worthlessness with little motivation to keep on living. At its peak, I felt okay for a day and for three days straight, miserable. I kept to myself even more; I would rather be left alone than be with people. To me, I was just a failure.
For many, the dawn of a new day presents fresh opportunities and possibilities. But to me, it was pure torture; what do I fill this blank day with, I always wonder? And of course occasionally, I had suicidal thoughts.
So why didn't I do it? Well, I will say God. I am a dedicated Christian and during that period, even though I was angry with God I didn't stop worshipping Him. I was angry with God because like the character Bruce Norlan in the movie ''Bruce Almighty,'' I felt God could fix my problem in a minute if he wants to but simply doesn't. In fact, if there was ever any moment in my life that I came close to denouncing my Christian faith, it was then. I remember any time I was going to church l told God, ''if you care about this relationship between us, give me a reason to keep worshiping you.'' And somehow he did.
And ooh thank God for Hollywood. I immersed myself in that stuff. For the hours that I watched those season movies, I was lost in another world providing me an opportunity to forget my misery at least for a while. To the observer, I was just a lazy parson who locks herself up watching movies all day. But those movies probably saved my life.
I finally got a stable job in an industry I never thought I could work in. However, I had to leave after a year. Oh boy, there is nothing worst than being unemployed again after tasting employment. It was like someone who after being beaten by the rain, takes a hot bath, changes into warm clothes and having to go back into the same rain. It is a fearsome experience. I wouldn't wish that for anyone.Thankfully, it didn't last too long.
Now, some pieces of advice coming from someone who has been there. First, to the parents of the unemployed. I know you are probably pulling some strings. And if you are religious, praying for a miracle. But believe me, any time you see your ward 'lazing about' in the house, believe me, you have received your miracle. You can as well thank God because your ward could had been 6 feets under by now.
And to the unemployed, don't give up. Keep on sending those applications and attending those interviews. Or if possible, start your own business; I know not everyone is a born entrepreneur. But by all means, keep the faith. That situation is not permanent, no matter how long you've been unemployed. It is but for a while. There may even be periods when you may be unemployed in between jobs but do not panic. You will overcome that also. It is but for a season. As long as there is life, there is hope. Just keep believing.
I know it's not easy but please do choose life!
Written by belindabe
[email protected]