UENR Holds 6th Matriculation Ceremony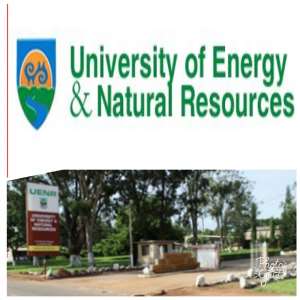 The University of Energy and Natural Resources (UENR), on Saturday held its 6th matriculation ceremony to welcome newly enrolled students into programmes for the 2017/18 academic year.
Speaking at the event, the Vice -Chancellor, Prof.Harrison K.Dapaah, who presided over the ceremony, in his address said the University admitted a total of 1887 students, bringing the total student population to 4887.
He said,those admitted,1532 were undergraduate students,out of the number 495 representing 32% were females while 1037 representing 68% were males.
" In the area of postgraduate admission, a total of 129 applicants were offered admission into master of Philosophy and Doctoral programmes,this represents over 100% improvement over last year's figures into the graduate school. Out of the number 18 representing 14% were females, while 111 representing 86% were males. The school that admitted 154 pioneers students in 2012 with only 3 programs has grown to accumulate students of 4887 running about 30 academic programs" he added.
Prof.Harrison K.Dapaah,charged newly admitted students to do more to achieve the ultimate goal of academic success and project the good brand of the University during their stay and warned them to shun stealing, Physical and sexual assault,examination malpractice and others vices, adding that the University would not hesitate to expel any student found wanting.
He urged students to involve themselves in extra curriculum activities but should not let them affect their academic abilities.
The Vice -Chancellor, assured the students that staff and management of the institution would provide the enabling environment for them to excel.
Prof. Harrison said "students and graduates of UENR are called technicians since they work with their heart and hands to make an impact in the world".
He called on the Ghana Education Trust Fund(Get fund) to as a matter of urgency come to their aid to provide facilities and infrastructures that will enhance a proper teaching and learning in the school.
He said the school has installed a 1.2 million dollar constellation observation system for meteorology and climate ground station to provide accurate meteorological information for Ghana and Africa
He however lamented that the school also have a facility known as Advance Fire Information System (AFIS) that has a capacity to detect flood and fire outbreak in Africa but faced with infrastructural challenge hence he appealed to the Getfund to put UENR on its priority list as guaranteed by the Vice president Dr Bawumia during his presence at the school's second congregation held in August this year.