Addo-Kufuor Calls For Standby Force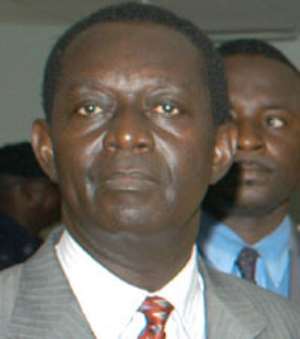 The Minister of Defence, Dr Kwame Addo-Kufuor, has called for the establishment of a standby force with authority and the necessary logistic support for the West African sub-region.
He said such a force, if established, would deter military adventurism and also be deployed rapidly to snuff out budding conflicts in the sub-region.
The Defence Minister made the call at a graduation ceremony for a special staff course for 29 Sierra Leonean Officers in Accra yesterday. The course was to provide the participants with the necessary tools to meet the job requirements and challenges to enable them to contribute to the efforts of ensuring peace and stability in their country and the sub-region as a whole. It was organised by the Ghana Armed Forces with financial support from the United Kingdom and the Sierra Leonean government. Dr Addo-Kufuor said information about such a force should widely be disseminated and civilians should be part of the ideology of that force. The composition of the forces, its funding and regulations for deployment, among others, he stated, should be clearly spelt out. Dr Addo-Kufuor observed that it was only when there was such an arrangement for conflict resolution that the sub-region would have the conducive environment to pursue socio-economic development. He reminded the military that they were in a new era in which civil society was wide awake and was very conscious of the need for good governance for the observance of the rule of law, and safeguarding of the rights and responsibilities of citizens. Dr Addo-Kufuor said in the current situation, the military must regard itself as a serious development partner, as well as a bulwark against chaos and disorder.
He said the contribution of all sectors of society was necessary in the desire to build a stable and peaceful country.
He urged the course participants to apply the knowledge they had gained to support their superior officers effectively and efficiently. Dr Addo-Kufuor noted that peace and stability constituted an important pre-condition for the development of any country and, therefore, urged the Sierra Leonean military to support the civil authority and other security agencies to maintain law and order in that country.
He urged them to respect and be loyal to the constitution, the state and to help protect the civil rights and legitimate aspirations of the people. Dr Addo-Kufuor said the people of Ghana and the sub-region were glad that Sierra Leone had made giant strides in the peace process. The Deputy Commandant of the Ghana Armed Forces Command and Staff College, Col George Partington said the school was faced with some constraints, such as the absence of staff at the Junior Division.
He called for this situation to be looked at critically so as to alleviate the overload of work on the few directing staff at the school.
Story By Michael Donkor