'Lets Revive Youth Groups To Develop Our Communities'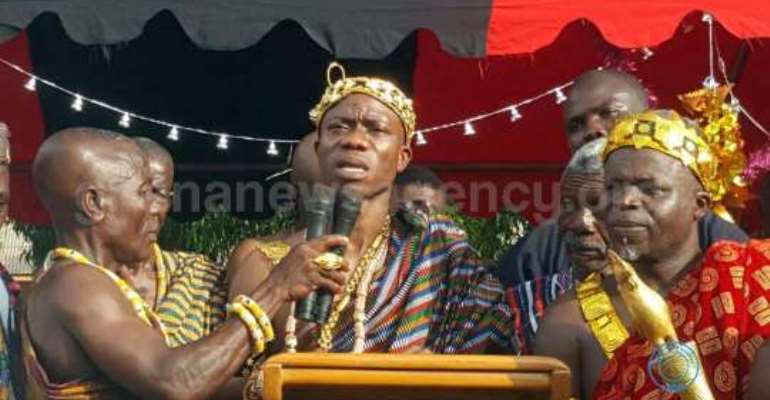 Togbe Adesi Dzagah VI, Senior Divisional Chief, Awudome Traditional Area has called for the rejuvenation of youth groups to smoothen the progress of community development.
He noted that young people had neglected patriotic activities in society and said the revival and organisation of youth groups could re-conscientise young people and commit them to the development of their areas.
Togbe Dzagah was addressing a durbar to cap the 2017 Awudome Yam Festival at Tsibu Awudome in the Ho West District on the theme: 'Job creation; the role of Government and Traditional Rulers.'
Nurses' quarters for the Tsibu Health Centre got a fund raiser and the ceremony attracted warrior groups from the seven Awudome Areas who enchanted the gathering with symbolic war dances.
Togbe Dzagah said a united and productive front would hasten the realisation of set goals and asked the warrior groups to bear positively on the youth to promote discipline.
He asked the people to take advantage of government's initiatives, adding that vocational and technical education needed to be prioritised to produce more skilled labour.
Togbe Dzagah appealed to government to come to the aid of the Awudome Secondary School, which he said was 'suffering from an acute water shortage and inadequate boarding facilities.'
He said Awudome chiefs were committed to the development of the area and called on natives in the diaspora to support local efforts.
Togbe Adzadi, Kpaku III, Chief of Tsibu Awudome said a community vocational training centre at Tsibu had not been equipped since it was completed in 2008 and appealed to stakeholders to come to their aid.
He lamented the poor state of roads linking towns and farms in the area, which he said was negatively affecting the output of farm produce.
GNA
By Samuel Akumatey, GNA