Spio's Political Gaffe, Nonsense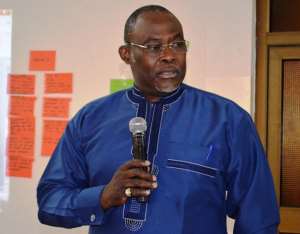 Dr. Ekwow Spio-Garbrah
Relevance in politics is very critical for every practitioner of this delicate yet complex occupation. In the quest to be germane to a political party, one must be circumspect and understand the dynamics of the prevailing issues and the notch the country has reached in its democratic growth.
Indefinite dependence on propaganda is a foolish recourse especially when the source of the lies does not realize it when he is no longer making sense yet he continues on the dirty tangent.
Dr. Ekwow Spio-Garbrah is one politician who has missed the realities of local politics as evidenced by his recent vituperations against the ruling New Patriotic Party (NPP).
Hardly mentioned in the scheme of things in the National Democratic Congress (NDC), the man who popularized the Team B nomenclature in his party's politics, but now ironically playing as such, appears to be groping in darkness. He seeks attention and relevance badly but he is committing so many blunders that he is losing the little deference he has left to his name.
His recent outburst when he hurled the ethnocentric politics label of yore to the New Patriotic Party (NPP) harmed his image immensely and exposed his underbelly for imminent attacks. Many who heard him treading on that tangent wondered why he decided to pull that template from the political archives of the country.
He prompted thoughts about the integrity of his academic standing and reminded many about how he once suffered the bad mouth of his party colleague, Koku Anyidoho, when he screamed at him 'Spio Garbrah's PhD my foot'. At the time Koku Anyidoho questioned the integrity of his academic qualification, we were not amused – finding his reaction rather unfair. Now the Team B originator has made us revise our position.
The last general elections, if Spio cares to know, showed how far Ghanaians have moved away from ethnocentric politics. We would be surprised if he has not discerned the paradigm shift.
The countrywide performance of the NPP, safe the Volta Region in spite of NDC installed obstacles, was ample evidence of the seismic shift. There comes a time in the history of a people when there is a shift in the thinking of the electorate, the mendacious remarks of the ilk of the Team C player notwithstanding.
Those who seek to lead must show sufficient deference for the people they want to govern. Living in a fool's paradise as Spio-Garbrah has decided to do when it no longer pays to do so is pathetic and unfortunate.
The misconception that Ghanaians will take anything from political nincompoops hook, line and sinker as prevalent in the dark days of local politics is shameful and incommensurate with educated persons who bask in it.
No longer shall dust be thrown into the eyes of Ghanaians by NDC propagandists. An overdose of this nonsense preceded the last general election yet Ghanaians decided the way they wanted the country to go and did just that.