Information Services Department Moves To Sanitize Operations Of Information Centres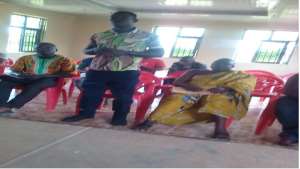 Mr. Kwame Mensah, Owner and Operator of Agenda Information Centre at Nsuhunu contributing to the discussion.
The Information Services Department in the Tain District in collaboration with the Tain District Assembly, the National Commission for Civic Education and other security agencies in the District have move to sanitize the operations of Information Centres. This comes at the back of complaints from Assembly members and other opinion leaders in the District about the operations of the Centres. Among others, some of the Information Centres have been turned into "radio" stations where discussions and phone-inns are entertain and opinion leaders and individuals of the communities are verbally abused, making of loud noise especially deep into the night as well as promotion and sale of unapproved medicines and other concoctions.
Though the Information Services Department has come out with guidelines to regulate their operations, it was realized at the meeting that just a handful of the operators have come for them. Some of them even express oblivion of the existence of the guidelines.
Speaking at the meeting, the District Information Officer for Tain, Mr. Baffour-Mensah Amos touched on the importance of the Centres in the dissemination of information in the communities but was quick to add that they have to operate within the guidelines which have been developed to prevent any possible trouble in the District. He said from henceforth any operator who flouts the guidelines will have his or her Centre shout down.
On his part, the Deputy District Co-ordinating Director for Tain, Mr. S.I Sadrat said the District wants the work of the Information Centres to be effective but will however not sit down for them to foment trouble and hence the need to regulate them. He urged the operators to form an Association so that the Assembly can always engage their executives.
On security implications of the operations of the Centres, Chief Inspector Nana Opoku of the Nsawkaw Police station said the police were very much concerned about their operations. He advised them to entertain any political, religious and or chieftaincy discussions in their Centres especially given the volatile chieftaincy situation in the District. He therefore urged them to abide by the guidelines as developed by the Information Services Department to prevent any possible clamp down by the Police.
The operator of Peace Information Centre and Assembly Member for Brohani Electoral Area, Hon. Musah Mohammed described the move as timely to forestall any possible threat to the peace and security in the District.