Accra Psychiatric Hospital Receives Support From Solace Initiative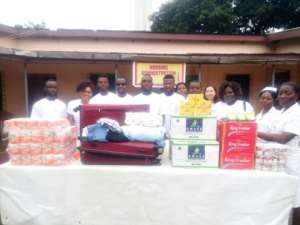 Solace Initiative, a Non-Governmental Organisation (NGO), has donated some items to the Accra Psychiatric Hospital to aid the up-keep of the patients and reduce its numerous challenges.
The items included boxes of water, toiletries, towels, bedspreads, clothes and provisions, which were received from partner organisations of the NGO.
Mr Abubakar Sadiq Yusif, the Executive Director of the Group, said the gesture was the first of its kind since the inception of the NGO in 2012, due to lack of sponsorships.
He said the work of the organisation was to support the vulnerable in Ghana adding; 'We believe that the mentally unstable persons are part of the vulnerable people and their rights need not to be curtailed due to the lack of some items needed in their day-to-day activities.'
He urged corporate bodies and other benevolent organisations to look out for opportunities to support vulnerable groups.
Mr Robert Gyedu-Amakye, a Nursing Officer at the Hospital, who received the items, expressed management' gratitude for the gesture and called on other groups, especially the Pharmaceutical Council, to come to the aid of the facility.
He said the Hospital faced inadequate funding from government to enhance its smooth operations adding that it did not also benefit from the National Health Insurance Scheme and had to charge individuals for treatment, which was meant to be free.
He said because funds from government were not forthcoming they were forced to depend on donations from corporate groups and individuals.
The Accra Psychiatric Hospital currently houses 438 patients with 93 females and 345 males, Mr Gyedu-Amakye said.
Members of Solace International, however, took the opportunity to visit some wards of the facility including the Children's, Female and Emergency wards to interact with the patients and nurses.