Govt urged to use royalties to develop mining communities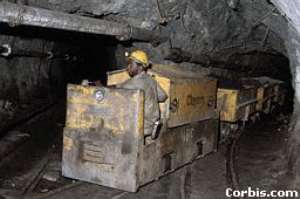 Yayaso (E/R), June 30, GNA - Oseadeeyo Frimpong Manso IV, the Omanhene of the Akim Kotoku Traditional Area, has urged the government to use the huge royalties from the mining companies to provide social infrastructure for communities.
He said though the people and the traditional areas own the land where the minerals were mined, over 70 per cent of royalties which should have been used to enhance development in the mining communities goes to the government and the district assemblies "leaving the people in abject poverty."
Oseadeeyo Frimpong Manso was speaking at a forum organized at Yayaso, near Abirem, in the Birim North District on Wednesday by Golden Ridge Resource Limited (GRL) in conjunction with Newmont Ghana Limited, an American mining company.
The company is prospecting for gold in the area. Chiefs and people from 10 communities who would be affected by the company's operations attended the forum. He advised the chiefs and people in the affected communities not to be so much interested in compensations that they would be paid for their crops and other properties that might be destroyed but must unite and present their long-term socio-economic needs to the company for assistance.
The Omanhene appealed to the company to cultivate oil palm trees on the degraded land after their operations and hand them over to the people instead of the government.
Mr Emmanuel Senzu, the Community Relations Officer of the company, briefed them on the company's draft Environmental Impact Statement (EIS) that would enhance their living standard. He said the company would employ over 2,000 casual and permanent workers from the 10 communities when mining starts. Mr Senzu said the company would ensure sustainable community development by providing water, health centres, school blocks and roads. 30 June 05