Rev Sam Korankye Ankrah Reveals Why NDC Lost 2016 Election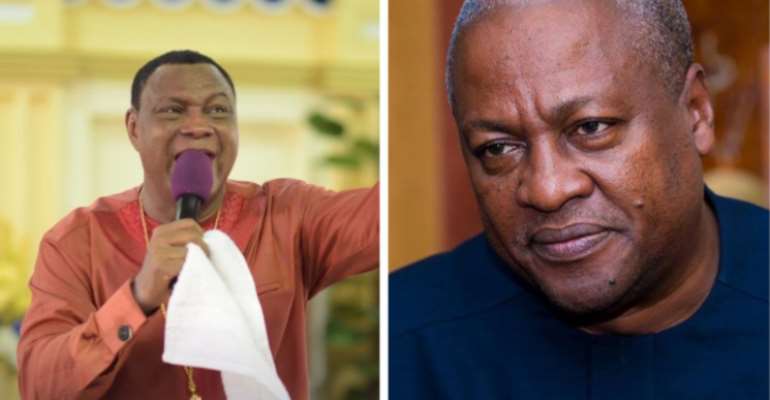 Many are those who have still not recovered from the shock of the heavy lost of the National Democratic Congress at the 2016 general elections.
Sam Korankye Ankrah,the Apostle General of the Royal Chapel International, a church in Ghana with more than 30,000 members revealed why the Mahama led administration lost the election.
Whilst preaching, he told his Congregation that he prophesied over Mahama's life on two different occasions that he would be Vice President and a President and they all came to pass.
"The first time John Mahama came to Royal House Chapel contesting for Vice Presidency, Apostle General opened his mouth and prophesied and said the next time you will come back you will come back as Vice President and it happened.
"He came there again and Apostle General said, the next time you will come to Royal House, you are coming as the President of the Country it happened."
He went on to tell his congregation that when it was almost time to vote ex Mahama came back to Royal House Chapel, He(Reverend) didn't say anything because he realised he would loose, but he prophised to the New Patriotic Party (Npp).
"But during this last election, when he came, Apostle General didn't open his mouth to say anything then I knew we were loosing the election.
"Then when the NPP people came to my mother's funeral,Second Service when I finished praying, I said May the Lord grant the desires of your heart then the NDC people were angry for me saying that. But I didnt, I don't know why I said that something just popped and by the Spirit.
In a nutshell he was trying to tell his congregation that whatever words that come out from ones mouth it's powerful and it works.
"Charley our tongue is dangerous, Your tongue and mouth is dangerous. Let's the weak say ...., let the poor say ...., let the sick say ...., let the fearful say ....let the the failing person say ....,Change your language! Change your language!"
Watch in the video below