Karaga: Students Chase Teachers After Burning Mobile Phones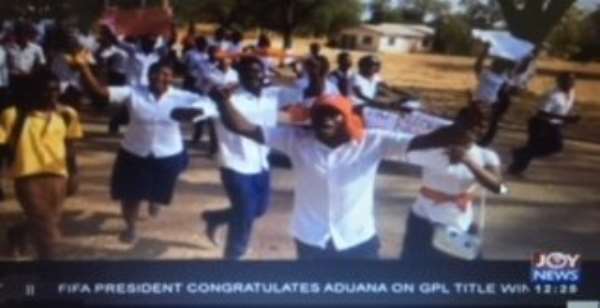 The Karaga Senior High School in the Northern Region has temporarily been shut down after students chased their teachers out of the school premises for burning their mobile phones.
The aggrieved students want their teachers to produce the over 100 phones they burnt on Wednesday.
The teachers had explained, the students were distracting their classes with their phones.
But the students would not listen to them as they pelted their teachers with stones and chased them into the bush.
A student told Joy News on Thursday that their teachers summoned them back to their dormitories during 'prep' hours and conducted the search in their rooms.
He said their initial thought was that the teachers were going to keep the mobile phones for them. But they became angry when their teachers torched them.
"Some people have their mobile money sim cards in the phones and that is going to create challenges when they want their money," the student said in a disappointed tone.
Joy News' Northern Regional Correspondent Mohammed Hasmin reported the development has compelled school authorities to shut down the school pending a resolution of the matter.
"An emergency meeting was held between school authorities and the District Director of Education to find an amicable solution to the issue," the reporter said.
Meanwhile, the Northern Regional Security Council (REGSEC) has dispatched police personnel to the school to maintain calm.