Minority Demand Legal Basis for Petroleum Increase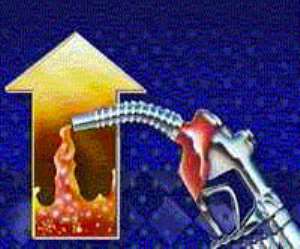 The Minority yesterday heckled Finance and Economic Planning minister, Kwadwo Baah Wiredu, and demanded from him the legal basis for the increase in petroleum prices before the bill was presented and approved by parliament.
The minority group insisted that the minister tell the house where exactly the money was, in which account it was paid and when it was paid into that account, and the status.
The minister said he would furnish the house with the necessary detail by the end of next week so that the house would decide on what to use the money for.
He said the money had been paid into an escrow account at the Bank of Ghana and would be used at the appropriate time when the need arose.
"It is available for us to utilize at any point in time," he stressed.
The controversy arose when the MP for Talensi and minority chief whip, John Tia, asked the minister how much revenue was realized between 18th to 22nd February 2005, following the price increase in petroleum products.
Mr. Baah Wiredu, in a response, stated that the revenue that was realized during that period following the price increase was 28,245,095,057 billion cedis.
He added that until recently, subsidies to Tema Oil Refinery (TOR) presented a significant burden on the budget and the size of its debt affect the financial sector through its overdraft facility, especially with the Ghana Commercial Bank (GCB).
He noted that to address some of the critical energy sector issues, in mid February 2005, the government raised petroleum prices by 50% on average , bringing retail prices to import parity levels.
The MP for South Dayi, Dr. Kwame Ampofo, also asked the minister how the TOR debt recovery had been utilized and when he would submit to parliament the annual reports of the fund as required by section 13 of Act 642.
Mr. Baah Wiredu again stated that parliament enacted a debt recovery law, introduced in May 2003 on petroleum products to enable TOR to either meet its under-recovery operations or service its bonds.
He said since its establishment, a total amount of 2.31 trillion had been lodged into an account, out of which 2.19 trillion had been disbursed. It was used to retire the bonds issued and to meet its under-recovery operations.
He said the annual report of the fund would be submitted to the house when the final audit report which was being prepared had been finalized anytime soon.