NIB Supports Ministry Of Education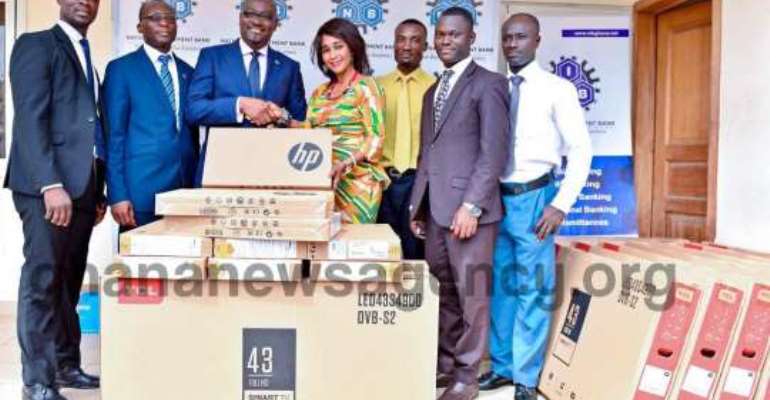 The National Investment Bank (NIB) has donated 24 brand new Laptops and LED Television sets to the Ministry of Education (MoE) to be given to teachers who have excelled in their fields of endeavour.
The donation is in support of the 2017 National Best Teacher and Best School Awards.
The annual award scheme established in October 1994 is aimed at recognizing the immense contributions teachers across the country make in the nation's quest to educate its citizenry.
It is a means of motivating outstanding teachers to give off their best in teaching effectively and efficiently.
NIB has over the years supported the education sector in diverse ways, in consonance with its Corporate Social Responsibility initiatives.
In all, 12 units of 43-inch Full HD Smart TCL TV sets and 12 units of 14-inch Dual-Core HP laptops were presented to the MoE.
Presenting the items, Mr Alfred George Thompson, the Deputy Managing
Director of NIB reiterated that NIB is excited to once again support the ministry in rewarding hard-working and selfless teachers across the country.
The provision of infrastructure and logistics according to him are 'key in the advancement of quality academic work hence, the Bank's desire to partner the MoE in addressing the needs of players in the education sector, like teachers.'
He emphasized that, 'computers are very critical in the area of research, and these laptops we believe will to a large extent help beneficiary teachers conduct their research with ease and timely and also ensure that accurate and useful information is imparted to students.
'If we help teachers, we essentially help ourselves as they will impart the knowledge they have to our children who eventually, will perform excellently to become professionals in the financial, educational, energy and other sectors of the economy.'
Receiving the items, Deputy Minister for Education Hon. Barbara Ayisi Asher expressed delight at the gesture saying it will go a long way to enable the ministry and the country show appreciation to the gallant teachers of the land.
'Teachers have been very pivotal in our national development agenda, moulding and shaping our future leaders and we need to support them.'
She further pledged the MoE's commitment to partnering NIB in fulfilling its social responsibilities towards quality education and national development.
GNA
By Audrey Dekalu/Kwamina Tandoh, GNA