Ghana's Nuclear Reactor Is For Peaceful Purposes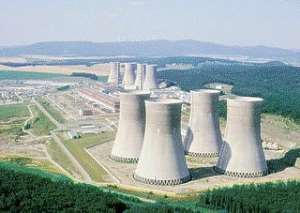 Ghana is committed to using its nuclear reactor for peaceful purposes, the Director-General of the Ghana Atomic Energy Commission (GAEC), Professor Edmund Akaho, has said.
He said the main focus of the GAEC was to use the reactor to promote health, agricultural and industrial research and not for military purposes.
Prof Akaho was speaking in an interview after a tour of the GAEC facilities by the Canadian High Commissioner to Ghana, Mr Donald Bobiash.
He said the reactor was adapted for research and added that that had been the focus of the GAEC since the reactor was installed.
With regard to the generation of electric power, Prof Akaho said the reactor could not perform that function, adding that if Ghana was interested in doing so, it had to acquire new reactors adapted for the purpose.
He urged the government to consider the use of nuclear energy to produce electricity, saying it was cheaper in the long-term.
On his part, Mr Bobiash said Canada had been active in the area of the application of nuclear energy in health and other research areas and had also been pioneers in the construction of particular types of reactors which were used for peaceful purposes.
He added that his country had also helped many developing countries with nuclear research and biotechnology and said the Canadian government would examine the possibility of helping the GAEC in the commercialisation of its research results.
In another interview later, the Director of Biotechnology and Nuclear Agriculture of the GAEC, Prof Josephine Nketsia-Tabiri, called on the government to encourage research into biotechnology and genetic engineering.
She said biotechnology ensured increased levels of crop protection against pests and increased yield and dismissed the notion that biotechnology could be harmful to the human body, saying there was no scientific basis for that assertion.
Story By Mark-Anthony Vinorkor