A Single Market In Africa, And Other Stories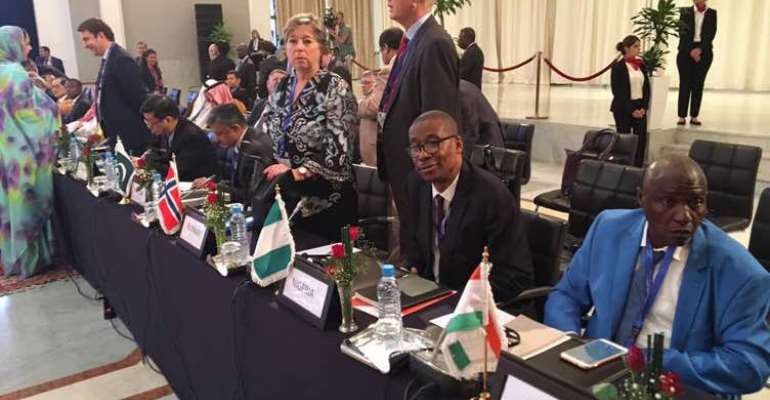 It was a busy week for us at the Federal Ministry of Industry, Trade and Investment so we might as well dive in to give you all the details on how it all went.
The Honourable Minister, Okechukwu Enelamah led the team to the Informal WTO Ministerial Gathering in Marrakech, Morocco, where he had talks with counterparts from Iran; host country, Morocco and other members of the KENSA Group (Kenya, Egypt and South Africa).
At the ministerial meeting chaired by HM Enelamah, the conversation centred on the construction of a single market in Africa. Enelamah reiterated the need for a strategy to stay relevant in the midst of diversity. Here's the biggest takeaway from his speech: "This is a moment when our approaches must combine realism with pragmatism, non-dogmatism and acceptance of responsibility. In Nigeria, we have decided to accept responsibility."
The Minister also met with China's Vice Minister of Commerce, Wang Shouwen; Nigeria's Ambassador to Morocco, Baba Garba and the Director General/Chief Negotiator, Ambassador Osakwe.
That's not all we got up to during the week.
On Tuesday, NIPC received the team from the United Nations Conference on Trade and Development (UNCTAD) and United Nations Economic Commission for Africa (UNECA). The team's visit was essentially to provide technical support to NIPC for the development of an iGuide for Nigeria.
What is an iGuide and why does Nigeria need it anyway?
Here's how it works: Investors will have a field day with an online platform that provides information on business costs, opportunities and investment requirements.
Meanwhile, the team at NIPC got on the move too. First stop was Akure where we attended the formal launch of the Ondo State Development and Investment Promotion Agency (ONDIPA). Then in Lagos, we presented a speech at a FGN-Union Bank Breakfast Meeting with embassies, consulates and trade offices.
Between January and August 2017, the sum of $22 billion has been attracted as foreign direct investments for 41 projects across 22 states of the country. The investments came from UK, China, Indonesia, Belgium and Japan.