Tarkwa Municipality Begins Car Registration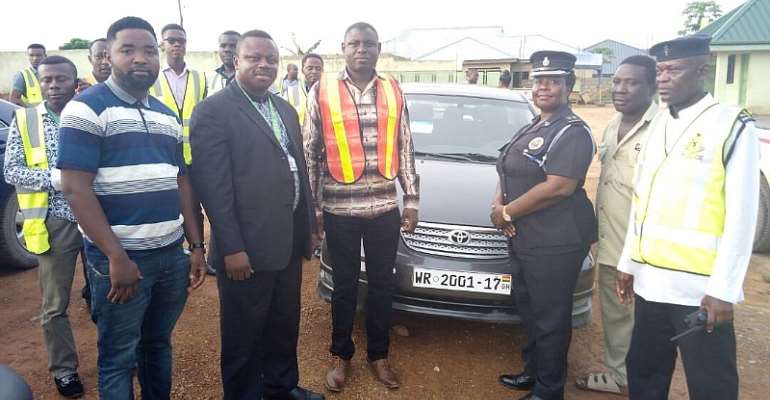 The Driver and Vehicle Licensing Authority, DVLA has commence fully the licensing and registration of vehicles in the Tarkwa Nsuaem Municipality.
Transport operators, private entities and cooperate organisations will save themselves the stress of travelling to the regional capital for vehicle registration beginning October 12th, 2017.
The Municipal Licensing Manager for Tarkwa Nsuaem, Kwasi Bona Otuo- Srebuor disclosed this at a short but colourful ceremony to perform the first vehicle registration, A grey Toyota Corolla S with registration number WR 2001-17.
He assured clients that the best driving standards will be promoted and also ensure fast, reliable and convenient delivery of services to customers who will come and register with the Tarkwa DVLA office, he mentioned.
Unlike like other DVLA offices which have been flooded with 'Goro boys and girls' whose activities pose a lot of discomfort and illegalities, he hinted that his outfit will ensure a zero tolerance for the latter, he further entreated customers to transact business only with accredited staff members in DVLA identity tags. In the area of space, he noted that the office has in place a wide parking space for vehicles.
Hon Gilbert Ken Asmah, Municipal Chief Executive for Tarkwa Nsuaem who performed the official embossment exercise for both the registration number plate and the road worthy sticker observed that the move was in the right direction and commended the Municipal DVLA Manager for the good works. "Tarkwa we all know is the second largest City to Takoradi in the Western region"
He observed that the office will be serving fourteen out of the twenty two metropolitan, Municipal and Districts Assemblies in the Western Region considering the location of Tarkwa Nsuaem Municipality, The fourteen Districts which will benefit from the registration center include, Prestea Huni-Valley, Amenfi East, Amenfi West, Amenfi Central, Aowin, , Wiawso, Bibiani, Bia East and Bia West.
The rest are Suaman, Juaboso, Akontombra, Bodi and Tarkwa Nsuaem Municipality, he added. He further urged vehicle owners to give their maximum cooperation and support for a conducive working atmosphere for all.
For her part, Supt Victoria Yamoah, Tarkwa Divisional Motor Traffic and Transport Department, MTTD of Ghana Police mentioned that her outfit was in full preparation to work in collaboration with the DVLA for smooth registration of vehicles, "We shall clamp down on unregistered vehicles with DV number plates".
The era where the excuse of long distance travel to Takoradi was the excuse for many drivers is over, We have brought vehicle registration to the doorsteps of Western North so to speak, The process has been made simple and convenient, she noted.