Collaborative Efforts Needed To Improve Quality Eye Care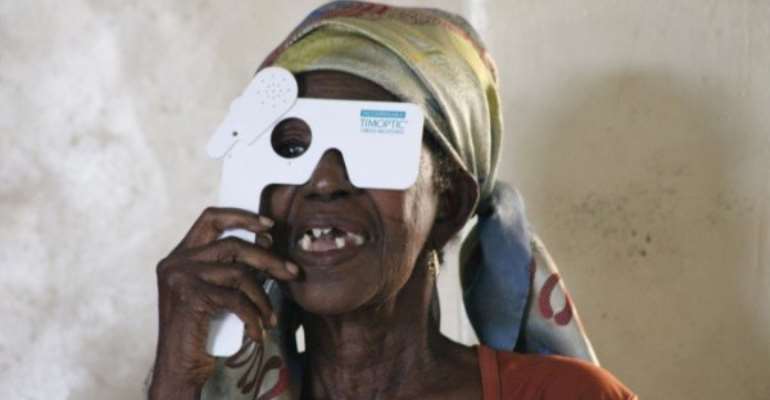 Accra, Oct. 5, GNA - The Ghana Health Service (GHS) on Thursday called for strengthened partnership and support from all stakeholders to improve the quality of eye care services, particularly at the community levels.
Dr Samuel Kaba, the Head of Institutional Care at the Ghana Health Service, made the call at a media briefing on this year's World Sight Day.
He said although some gains had been made over the years to address the giant global public health issue, there was still much to be achieved through joint efforts.
Dr Kaba said the event would be observed on October 12 at Ejisu in the Ashanti Region, on the theme: 'Universal Eye Health' and a Call to Action with the hashtag # Make Vision Count.
It would focus on addressing the issue of avoidable blindness and visual impairment.
Dr Kaba said the alarming rate of avoidable blindness and visual impairment among persons living in low-income countries, including Ghana, had become a major global public health problem and needed multi-stakeholder collaboration and approach to create awareness and ensure quality service provision.
Current statistics of eye diseases in Ghana, showed that 207, 200 people, making about 0.74 per cent were blind, while approximately 299,600, that is 1.07 per cent, and 526,400 (1.88 per cent) others respectively, had severe to moderate visual impairment, he said.
He said in some instances, it had accounted for the poor academic performances of some children at the basic levels, indicating that there was a growing rate of myopia (short-sightedness) among those age groups due to the current lifestyle of many, where indoor computer games and television had currently replaced outdoor recreation.
Globally 285 million people were visually impaired, 39 million of which were blind, with 246 million having low vision, which ranged from severe to moderate visual impairment, with estimated 19 million of them being children.
Dr Kaba said about 90 per cent of the global figure lived in developing countries, and even though four out of five blind or visually impaired cases could be prevented through known cost-effective means, preventable causes had remained as high as 80 per cent of the total global burden.
He cited cataract, glaucoma, posterior segment diseases such as diabetic retinopathy, and those related to the cornea like refractive error, as the major causes of eye problems, and accounted for about 79 per cent of avoidable blindness.
He said although most of those eye diseases could easily be corrected or treated when reported early, uncorrected refractive errors had been the main cause of visual impairment, and encouraged the public to seek immediate health care to save their eyes.
Dr Kaba appealed to the media and all other stakeholders to join in the crusade against halting avoidable blindness through sustained public education and improved access to eye care services.
Dr James Addy, the Programme Manager of the Eye Care Unit of GHS, said the annual event would, among other things, help raise public awareness of blindness and vision impairment as a major international public health issue.
It would also help to influence governments and ministries of health to participate in and designate funds for national blindness prevention programmes.
This would ensure that all persons had access to needed Promotive, Preventive, Curative and Rehabilitative Health services of sufficient quality and ensure that people did not suffer financial hardships when paying for those services.
Dr Addy said the GHS, in collaboration with its partners, in 2016 conducted over 50,000 cataract surgeries and still needed to do about 40,000 more, which called for the designing of a National Cataract Outreach Programme to reduce the backlog.
The GHS would also ensure the integration of eye screening for diabetics at all the regional diabetic clinics, and improve the faculty members of ophthalmic nursing school at the Korle-Bu Teaching Hospital to produce more professionals to provide enhanced services at the community level.
GNA
By Christabel Addo, GNA