First Lady's Foundation, HFC To Build CHPS Compound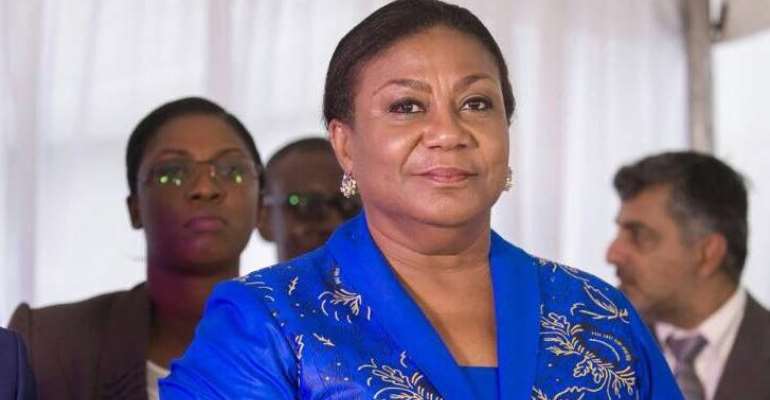 First lady, Rebecca Akufo-Addo, has appealed for more Public Private Partnership to help in the total eradication of malaria in the country.
Her appeal comes at the back of a cheque presentation by HFC Bank (Ghana) Limited, to Infant Malaria Prevention Foundation, a Non-Government Organization chaired by the First Lady, to help in the building of a Community-Based Health Planning Services (CHPS) Compound at Nyanshegu a suburb of Tamale, Northern Region
In August 2017, HFC Bank, in collaboration with Infanta Malaria Prevention Foundation, launched the HFC-Infanta Ride Out Malaria Cycling Tour; to create awareness and to raise funds towards the building of the CHPS compound.
This was done by thirteen cyclists who embarked on a 688 kilometer journey from Tamale to Accra within eight days.
Speaking at the presentation, Mrs. Rebecca Akufo-Addo said such partnership will help provide some essential services to Ghanaians and reduce the pressure on government.
"Even though some are more fortunate than others, a lot can be done for our own people as we try to create a minimum level of access to health care for everyone. Imagine what could be achieved as a county if all corporate institutions and individuals get involved in the provision of essential services. I therefore urge all Ghanaians and corporate institutions to build the spirit of volunteerism and social responsibility. Lets us build this nation together."
Presenting a gold medal to the 13 participants and individuals who helped to raise the fund, the first lady while pledging her support, promised to mobilize resources to improve the welfare of mothers and children in the country.
" I thank everybody who donated to this initiative. Because of your generosity, a child will be saved and a pregnant mother will be assured of decent healthcare. Because of you, the people of Nyanshegu can boast of a community health centre. Because of such selflessness, humanity can have hope for the future."
Presenting the two hundred and seventy thousand Ghana cedis cheque to Infanta Malaria, board chairman for HFC Bank, Charles zwennes, thanked the first lady for the partnership and promised more collaboration in the future.
–
By: Felicia Osei/Citifmonline.com/Ghana