World Heart Day: Awake Water Doles Out GHC75,000 To Cardio Centre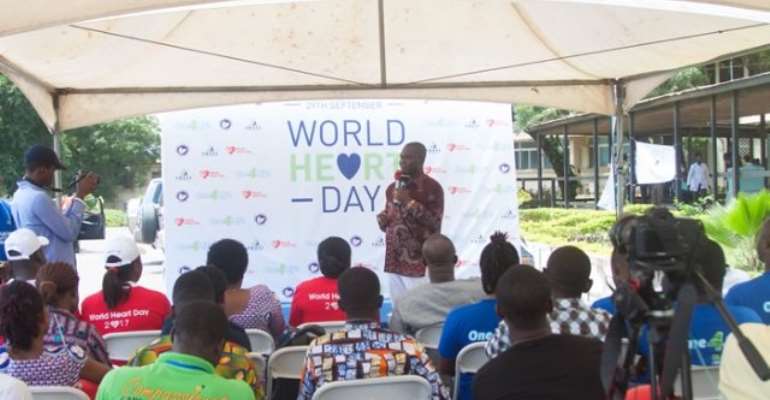 Kasapreko's Awake Purified Drinking Water has presented a cheque of GHc75,000 to the National Cardiothoracic Centre, Korle Bu to support the treatment of persons with heart-related issues.
The donation forms part of the company's #AwakeYourHeart activities in marking this year's World Heart Day and also in support of its One4Life initiative.
World Heart Day is part of an international campaign to spread awareness about heart disease and stroke prevention. Leading to the Day, Awake Water launched a campaign "Awake Your Heart" which seeks to share knowledge and steps needed to make the heart stay healthy and also take control of the most important organ of the body.
"Our campaign aims at educating the public on the simple lifestyle changes that will help one reduce risk for heart disease. It is estimated that the probability of dying as a result of cardiovascular diseases (CVD), cancer, diabetes, or chronic respiratory diseases for people between the ages of 30 and 70 is 20% in Ghana," the Director of Water and Carbonated Soft Drinks (CSDs) at Kasapreko Company Limited, Eunice Adjei Bonsu stated.
Presenting the cheque to officials of Cardio Centre, Head of International Business at Kasapreko, Clarence Amenyah said Awake Water has become a household name in Ghana because of the trust and support consumers give the brand and the belief in the #One4Life initiative.
Director of the Cardio Centre, Dr. Lawrence Sereboe who received the donation commended the management of Awake Water for helping the centre in a more sustainable way.
Dr. Sereboe observed that people have come to appreciate the fact that the steps that have been taken by Kasapreko Company through the Awake Water #One4Life initiative to support the Cardio Centre is a worthy cause.
According to the Cardio Director, the management of the centre will continue to use the donation from Awake Water to take care of the needs of heart patients.
So far, Awake Water has donated GHc425,000 to the Cardio Centre since the start of the One4Life initiative.
Story by Ghana | Myjoyonline.com