Govt pays TOR 2.118 trillion cedis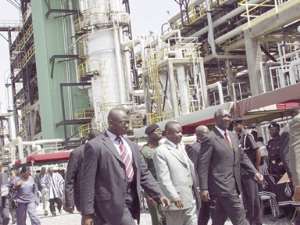 Accra, June 28, GNA - The Minister of Finance and Economic Planning, Mr Kwadwo Baah-Wiredu on Tuesday said the Government had disbursed 2.118 trillion cedis to Tema Oil Refinery (TOR) to meet its commitments.
He said the Government had lodged 2.3 trillion cedis into an account to enable Tema Oil Refinery (TOR) to either meet its under-recovery operations or to service its bonds.
Mr Baah-Wiredu, who was answering parliamentary questions, said he would soon put before Parliament details of a fund established under an Act of Parliament to pull TOR out of the woods. "The annual reports of the fund will be submitted to this august House when the final audit report, which is being prepared, is finalised any time soon."
When asked how much the TOR owed, he said, the audited report would spell out the details.
Dr Kwame Ampofo, NDC MP for South Dayi, had asked the Minister how the TOR Debt Recovery Fund had been utilised and when he would submit to Parliament the Annual Reports of the Fund as required by Section 13 of