10 October 2017
|
Diaspora (USA)
Dr. Thomas Mensah and Two Top US Personalities To Be Honored At the 3G Awards in NY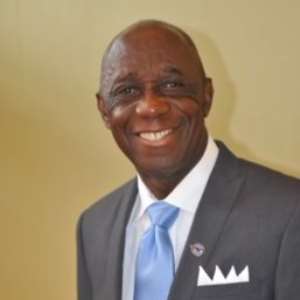 Dr. Thomas O. Mensah is the Chief Executive Officer at Georgia Aerospace Systems and also the world-renowned inventor with 7 US and worldwide patents in Fiber Optics over a period of six years. Dr Thomas Mensah, the Ghanaian American has at least 14 patents to his name, in general, and is the first black person to receive such a number of patents in a short number of years. in 2015, he was elected to the rank of Fellow of the National Academy of Inventors of USA. Dr Mensah will be joined by Hon. Fred Brown and Mr Bob Williams as honorees for the 7th Annual 3G Awards in New York.
The Honorable Fred Brown is the Chairman of The Black Republican Party of America. He was Recently Elected as the Head of the Republican National Committee In the Bronx. As CEO, he Is responsible for expanding the membership of the Black Republican Party and their critical role in Electing Donald Trump as the President of the United States.
Bob Williams
Mr Bob Williams is the Chairman of the Children's Education Fund for the Black Republican Party. Responsible for raising funds for Scholarship For African American Students.
Some of the Ghanaian celebrities who will be honoured at the event include, Vivienne Achor, gospel duo Willie & Mike, among others.
The 3G Media Awards 2017 is in recognition of exceptional leaders and their contributions to the Ghanaian and global communities. The event will be held on Saturday, November 11, 2017, at Pak Banquet Hall, 4229 Park Avenue Bronx, New York.
The event will be co-hosted by Bernard Aduse Poku of Kumawood Fam and Ageorgia. DJs expected who are expected to grace the event include DJ Jeff, DJ Prince, DJ Prekese and Naasei. There will be a live musical performance from Akrofi and a host of others.
This year's event is being sponsored by KTA Moblie, Investigroup, Royal Olives, Royal Estates Group, 1st Family Home Care, MayJay Property Management etc. Supported by the Permanent Missions of Ghana in New York, the National Council of Ghanaian Associations, Ghana Chamber of Commerce USA, Vitalghradio, Highlife Radio, Golden FM, Worcester, Anokyekrom and Club Noamesco.
Source: www.3gmediaonline.com /3gawards