We Are Not Going to Have Another MDC in the Country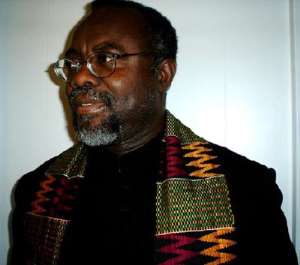 The fact that President Addo Dankwa Akufo-Addo progressively floated the all-too-savvy and politically salutary idea of having all Metropolitan, Municipal and District Chief Executive Officers directly elected by the people in the lead-up to the 2016 general election, does not mean that any group of think-tankers can mischievously presume to take undue advantage of the President's ideological liberalism, such as the likes of Dr. Kwesi Jonah and Mr. Kofi Awity, both of the Accra-based Institute for Democratic Governance (IDEG), clearly appear to be scheming to do (See "IDEG Wants Commission Established to Regulate Political Parties" Ghana News Agency / Modernghana.com 10/10/17).
IDEG's call for the establishment of a Multi-Party Democracy Commission (MDC) is decidedly trite and pedestrian because, already, Ghana's Electoral Commission (EC) regulates the activities of all legitimately registered political parties in the country. In short, we don't need any more regulatory commissions; what we need is the necessary and adequate enforcement of rules and regulations that are already on the books, as it were. Besides, whatever funding resources may be required for the establishment of such a commission, as is being proposed by Messrs. Jonah and Awity, can be more profitably used in preparing for the deliberate and elaborate processes entailed in facilitating the democratization of the executive echelons of our local governance culture or protocol.
We simply don't need another white-elephantine commission to control the activities of political parties. And, if, indeed, IDEG's Dr. Jonah wants transparency regarding the means by which to ascertain funding sources of political parties, this can be done more legitimately and effectively through the statutory and legislative empowerment of the Ghana Revenue Authority (GRA) and the Auditor-General's and the Accountant-General's departments. The call for a commission to regulate political parties will only lead to more bureaucratic red-tape and an avenue for wanton corruption.
Indeed, even as the New Patriotic Party's stalwart Mr. O. B. Amoah adumbrated recently, a constitutional amendment is in the works to facilitate the direct election of local government operatives. This will be appropriately done by Parliament, the statutory branch of government charged with reviewing and effecting the necessary and the most desirable changes to the highest legal instrument of governance in the country.
*Visit my blog at: kwameokoampaahoofe.wordpress.com Ghanaffairs
By Kwame Okoampa-Ahoofe, Jr., Ph.D.
English Department, SUNY-Nassau
Garden City, New York
October 10, 2017
E-mail: [email protected]