Ghana's Heads To IMF/World Bank Meetings...Osafo Mafo Leads Delegation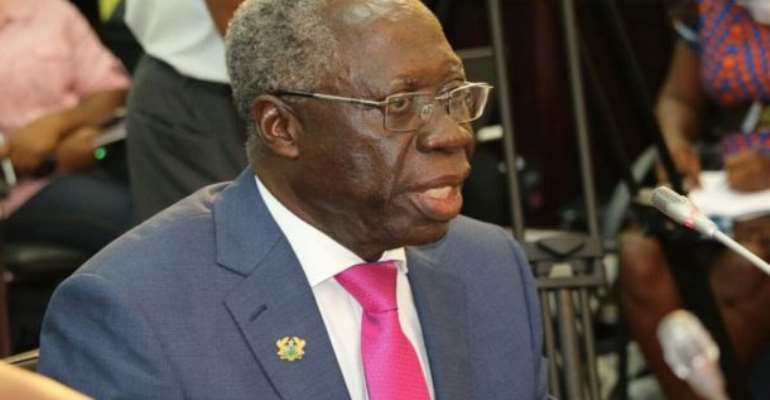 Ghana's delegation for the 2017 IMF / World Bank annual meetings has arrived in Washington D.C, USA.
The delegation is expected to showcase Ghana's recent economic recovery efforts to international development partners as well as hold talks with stakeholders to secure more international support for Ghana ahead of the 2018 Budget.
The team is led by Senior Minister Yaw Osafo Mafo and includes Finance Minister Ken Ofori Atta, Planning Minister Prof Djan Bafour, Deputy Finance Minister Charlse Adu Boahen and Deputy Minister for Information Kojo Oppong Nkrumah.
It also includes Bank of Ghana Governor Dr Ernest Addison and his first, Deputy Maxwell Afari.
A team of technical advisors from the Ministry of Finance and Central Bank is supporting the delegation.
Speaking to the media from Washington, Senior Minister Yaw Osafo Mafo said: "Our objective is to engage our development partners with evidence of the work we have been doing on the Ghanaian economy since our take over in January. Initially the world was hedging their investments in Ghana. But as evidence emerges of how we are daily improving the marco-economy while at the same time funding our key social interventions, it is a good opportunity to engage some more and attract more support for the Ghanaian economy."
Finance Minister Ken Ofori Atta will be a key representative on a number of panels focused on addressing key challenges to developing economies like Ghana and shaping international finance policy in that regard.
He will also be briefing the International Monetary Fund and its directors about the steps in issuing Ghana's cedi denominated energy sector bond.
Other ministers will also represent Ghana at simultaneous meetings of the G20, ratings agencies the World Bank and other development partners.
They will also be pitching Ghana's new economic policy direction and inviting support from the global finance and development community.
The annual IMF / World Bank meetings are a platform to engage global finance and development agencies to secure commitment and support for a country's economic and development agenda.
Ghana's recent participation in similar international events have brought benefits such as inclusion in the G20 compact which will provide €120 million for the country.
The team is expected to return to Ghana by October, 18.