British High Commissioner Visits Speaker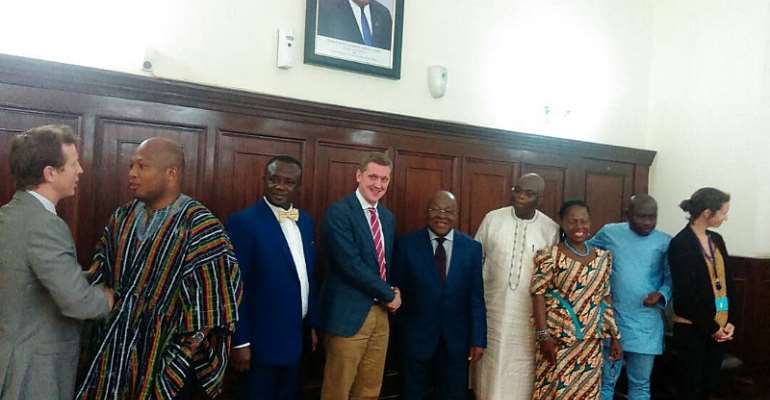 The new British High Commissioner to Ghana, Ian Walker, who succeeded controversial Jon Benjamin, on Friday paid a courtesy call on the Speaker of Parliament to express his preparedness to work with the legislature in strengthening and consolidating Ghana's democracy.
The British High Commissioner said apart from helping to sustain institutions of democracy in the country, he would also focus on enhancing trade between the two countries.
He said ties between the two countries with historic relations would continue to be strengthened for mutual benefits.
He commended the government for its vision to create the Special Prosecutor Office, which he said will help build investor confidence in the economy.
He announced that the Commonwealth Parliamentary Association will be visiting Ghana in November while the next Commonwealth Summit will take place in April, next year.
The speaker, Prof Mike Oquaye, who welcomed the new High Commissioner, said in order to deepen democratic culture in Africa, Great Britain should place sanctions on African leaders who want to perpetuate themselves in office by either changing their countries' constitutions to run for endless terms or completely throwing away the constitutions to make them life presidents.
The first deputy speaker, Joseph Osei-Owusu, on his part, appealed to the new High Commissioner to impress upon the British government to reconsider its decision to freeze the accounts of all Ghanaians who do not have proper resident permits in the UK.
He said instead of freezing the accounts of those Ghanaians and asking them to come back to Ghana, it would be prudent to help regularise their stay to help contribute to the growth of the British economy.
The ranking member of the Foreign Affairs Committee of Parliament, Samuel Okudzeto Ablakwa, expressed worry about the way the Consular Section of the British High Commissioner treats Members of Parliament when they go for visas to travel to the UK.
He also said the Consular Section must also treat Ghanaians with dignity when they visit the Commission to apply for UK visas.
The High Commissioner said he would look at the complaint by the ranking member of the Foreign Affairs Committee and take the necessary steps to correct any wrongs at the Consular Section.
By Thomas Fosu Jnr