Akufo Addo Will Not Apologise For Claiming Kufuor Started Wa Water Project - Minister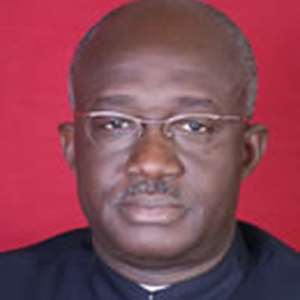 Joseph Kofi Adda
MINISTER OF Water Resources and Sanitation, Joseph Kofi Adda, has indicated clearly that President Akufo-Addo would render no apology for claiming that the Wa Water Project was initiated by the erstwhile Kufuor government.
National Democratic Congress (NDC) propagandists had asked the president to apologize for what they termed "falsehood."
But in a statement to set the records straight, the minister pointed out that
President Akufo-Addo was accurate in his assertion about the Wa Water Project because he (president) was part of the history of the funding for the project because he was the then foreign minister.
"I wish by this press release, to set the record straight and in so doing, to stress that the president cannot, and will not render an apology to anyone as what he said during the commissioning ceremony was factually accurate and did so with the full knowledge of the history and of the events as well as policy decisions leading to sourcing of the funds, the subsequent execution of the project and its completion and commissioning," the water resources and sanitation minister said.
Giving insight into the history of the project, Mr. Adda said, "The project was conceived by the late Alhaji Abdul Rahman Musah, popularly called Wilhelmn, who was then the Board Chairman of the Ghana Water Company Limited," and vice chairman of the New Patriotic Party (NPP.
According to him, "The board chairman first sought funding from the Dutch financial agency, Orios, but as that was delaying, he caused the current Member of Parliament for Sissala West, Patrick Adamah, then a consultant working with the Korean construction company, Kolon, to repackage the project for support from the Korean government.
"The repackaged project was presented to the Korean Eximbank in 2008 during President Kufuor's tour of the Far East, of which delegation I was a part as then energy minister, together with the current president, Nana Akufo-Addo, then as foreign minister.
"The negotiations for the Korean funding therefore commenced in earnest in 2008. Indeed, the negotiations were so far advanced that Dr. Kwabena Dufuor was confident enough about accessing the funds that he included it as part of the 2009 National Democratic Congress Financial Policy and Budget Statement read in March 2009."
Mr Kofi Adda charged, "Please see paragraph 452 of the budget read by Dr Kwabena Dufuor in parliament as an initiative of the previous [NPP] government which he stated would be continued by the ministry of water resources, works and housing.".
He indicated that reference could also be made to the handing over notes by the last Wa municipal chief executive under Kufuor's administration, Alhaji Mohammed Abdul Aziz, to the new NDC administration in 2009.
Mr Adda recounted that Alhaji Mohammed Abdul Aziz stated clearly in his notes to the incoming NDC government that the Wa Water Project was initiated by the Kufuor administration and recommended that the new government should continue with it.
BY Melvin Tarlue