President Akufo-Addo To Launch Restoration Of Nurses Trainee Allowance In Sunyani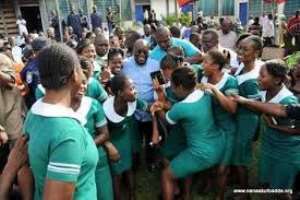 President Nana Addo Dankwa Akufo-Addo is set to launch the restoration of nurses trainee allowance on October 10,2017 at the Sunyani Nursing and Midwifery Training College - SNMTC,in the Brong Ahafo Regional capital, Sunyani.
The decision to have an occasion to symbolize the restoration has been criticized as frivolous move from the government by some sections of the public.
According to Ahomka 90.5FM,Sunyani source, about 58,000 trainee nurses and midwives will receive their monthly allowance after the launch.
The government is also expected to abolish the taxes on the allowance to ease pressure on the nurses, especially those posted to remote areas.
The ruling government(NPP) in 2016 promised that when they get the nod to rule,the very first budget before March 2017, they will restore teacher training and nurses training allowance.
In 2016, trainee nurses in the Upper East Region warned that the status of allowances would influence their vote in the in December polls.
The trainee Nurses allowance was initially scrapped to allow the various training colleges to admit more students in a decision which was met with wide condemnation.
The National Democratic Congress (NDC) earmarked a students' loan scheme in place of the allowance.
Former President Mahama government had agreed to pay a reduced allowance for the trainees temporarily, until such a time that they are finally moved onto the students' loan scheme.
But the current administration assured nurses and teacher trainees it will restore their scrapped allowances 3 months after it has been elected into office.
Meanwhile Minister of Health, Kwaku Agyemang-Manu, defended the launch, asking why the people would expect the government to restore the allowance quietly.
"We are launching [the restoration of the allowance] to demonstrate to Ghanaians that the government has honored its promise. We don't want to hide in a room somewhere, pay the allowance and that is the end of it. Ghanaians should know what we are doing," the Minister of Health stated to the Media after appearing before Parliament.
He stressed that, it was important "to communicate the good works of our President and that is why are we are launching. People are happy; they want to jubilate about it and we want them to jubilate about it."