Police Shield Chinese From Being Lynched By Angry Mob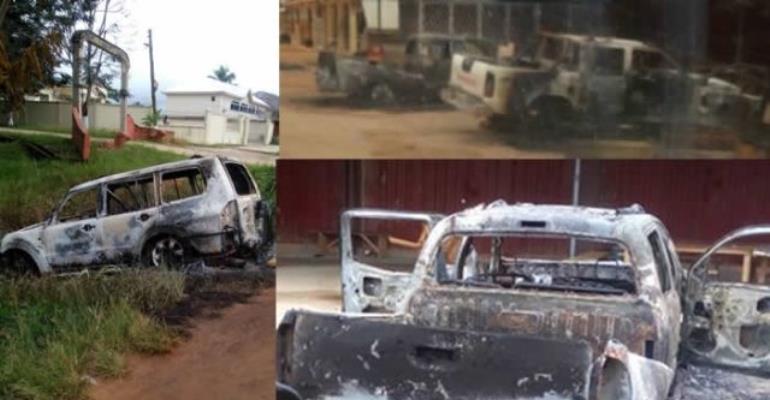 Police in Wassa Akropong in the Amenfi East District of the Western Region are facing a tough time protecting some Chinese nationals, one of whom is alleged to have shot dead a local on Friday.
A reporter with a local radio station, Rivers FM, Mathew Mensah, told Joy News Saturday the security situation in the area is chaotic.
"The youth are here in their numbers, about 100 of them. The security personnel are here to convey the Chinese people to Tarkwa, but the youth are saying no.
"They say the police should hand over the Chinese to them so they will also give it them as they gave it the Ghanaian," he narrates.
The youth on Friday went on a rampage, setting at least 25 vehicles, said to belong to Chinese nationals on fire.
They also vandalised the casino building where the alleged shooter works, forcing a joint Police and Military team to be deployed to the area.
The incident happened after a resident, Nana Buah, was shot dead by the Chinese national who is also resident in the area.
Mathew told Joy News that information his radio station has indicated that the Chinese hired a local hand for a job, however, although the labourer had charged GH¢150 as fee, he was paid GH¢100 after completing the job, sparking a war of words between the unnamed Chinese man and the labourer.
The verbal fight continued until the Chinese man pulled a gun and started firing shots. Nana Buah, who is a friend to the labourer, and had been waiting for his friend, was hit by one these random shots fired by the Chinese.
Police on Friday conveyed some of the Chinese who had been hiding in the casino building -- and where the youth have massed up for the reprisal -- to Tarkwa, a city close to Wassa Akropong.
Joy News' Francis Wadja also reports that but for the intervention of the Police, Chinese woman would have been lynched o Saturday morning,
Police say they will provide round-the-clock protection to other Chinese in the area until the chaos settles down.
Francis Wadja reports Saturday that Western Region Police Commander, DCOP Kwesi Duku, has arrived in the area to calm tensions.