Jomoro MP's Father Joins Ancestors Today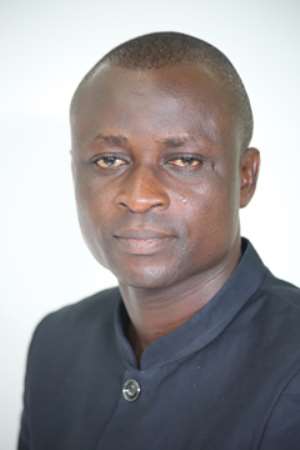 The Member of Parliament for Jomoro Constituency (MP) who doubles as the Deputy Minister of Chieftaincy and Religious Affairs, Hon Paul Essien's father joins his ancestors today.
Mr Joseph Kwaw Essien, the father of Hon Paul Essien met his untimely death on Monday 7th August 2017 at Sefwi Government Hospital.
Late Joseph Kwaw Essien who died at the age of eighty-two (82) years would be buried today 7th October 2017 at Tikobo no. 1 cemetery in the Jomoro District.
The ruling government appointees, NPP executives, opposition political parties and Chiefs and Queen mothers are expected to mourn with the Member of Parliament for Jomoro Constituency.
Late Kwaw Essien married to Mrs Georgina Essien with seven (7 children.
BIOGRAPHY OF THE LATE JOSEPH KWAW ESSIEN
Monday 7th August 2018, goes into history as never to be forgotten day for the 'Mafele' Family of Joseph Kwaw Essien. The late Joseph Kwaw Essien as he was affection called was born in the year 1935. His parents were Egya Erzane Kwaw of Tikobo No. 1 and Maame Nyanzu Ahu of Kerene, both of blessed memory.
Mr. Essien started his basic school at Nawule, Tikobo and Allowule (NTA) school. He passed the Middle School Leaving Certificate where he obtained the Middle School Leaving Certificate (MSLC), and went to training school at Bunso Training School.
He started his work at Aiyinasi in the Ellembelle District as Agric Extension Officer. After a number of years, he was transferred to Bogoso in the Prestea Huni-Valley District. From Bogoso he was transferred again to Sanwrano and from Sanwrano to Sefwi Essam in the Sefwi Wiaso District. The late Mr Essien got married to Madam Georgina.
Late Kwaw Essien was very objective to issues, non-discriminating, hardworking, generous in the family-Christmas gifts to friends with a high spirit of perseverance. He was a gifted counsellor and was more or less the Abusu Panin in the area even though he was not the elders. His trust in God made him different from many others.
He received numerous citations for his work in the Church, including Church Groups. He never shied away from death as he always believed it was another step in life.
"This was why his sudden death, even though a shock to us, had made us rejoice in our hearts that he lived and died in the service of his Maker.
May you rest peacefully in the bosom of the one who sent you. Amen"
TRIBUTE BY CHILDREN
On behalf of the children, Hon Paul Essien read the tribute to their late father, Mr Kwaw Essien.
Daddy, God indeed blessed us by giving you us a father, a role and responsibility you played excellently to our admirations and even friends around us. Paa you knew we pride ourselves for having you as our father.
We can briefly describe our late father as a level-headed personality, a man of self-restrained in his decisions, very wise in judging between what matters and what do not, - the 'King Solomon' of the family. His jovial and happy nature is an aspect of his character we his children will always remember. Daddy was lucid, good-humoured and intellectually engaging.
Daddy, we can hardly forget the periodic family meetings and your one-on-one discussion to address our personal issues. Daddy thanks for your love, care, generosity, nurturing and guidance in our formative years and continue to enjoy. Papa, we acknowledge your numerous sacrifices to ensure our well-being.
Papa your boldness, fearless nature, sense of humour, simplicity, hard work and above all intelligent had benefited many people nationally and internationally. Your inspiration did not have bounds and any more who yearned to know, love and serve God better was encouraged and counselled to so so by our father.
You taught us to be God-fearing, firm, independent-minded, be self-confident. Your sound biblical teachings and pieces of advice will guide and continue to be in our hearts and promise to carry this legacy ad we journey through life.
Daddy, the last time we spoke to you on admission at the hospital, you did not exhibit any sign of sudden departure from us; but rather promised to visit us as soon as you are discharged.
We do not need the wisdom of philosophers of books to tell us that our pillar at home is broken, but we are consoled by the Word of God that you are asleep and not dead, and the Lord whom you served will not jeopardize our future. He will surely provide the sacrificial lamb in our lives.
We, your children say fare thee well to our dear Dad. It is your ardent prayer that the good Lord whom you served faithfully will welcome you into the bosom of the father Abraham until we meet again during the resurrection. Rest In Peace. "
Source: Daniel Kaku