October 7, 2017
|
Feature Article
Why We Must Ban Small-Scale Gold Mining With Excavators Permanently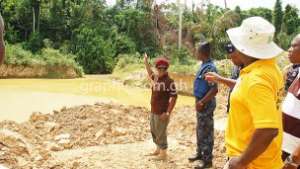 It is reported that the Ashanti Regional minister, Hon. Simon Osei Mensah, has come across galamseyers in Asante Akyem who have taken to digging tunnels in their bedroms, in order to mine gold clandestinely. What fools. Clearly driven by unfathomable greed, they have gone mad, alas.
The minister for lands and natural resources, Hon. John Peter Amewu, is also reported to have stated that the ban on small-scale gold mining might have to be extended for another six months. Fantastic. As regards the issue of lifting the ban on small-scale gold mining, Ghanaians ought to always take cognisance of the dishonest natures of most of those who operate in that sector of the mining industry - especially when well-resourced lobbyists for small-scale gold miners attempt to put a spin on their appalling and egregious disregard of our nation's natural heritage: in order to cloak their abominable and unpardonable crimes against Mother Nature.
The plain truth is that were the more responsible sections of the Ghanaian media to closely monitor the fieldwork of the sector's regulatory bodies' officials conducting onsite forensic audits into the operations of all Ghana's legally registered small-scale gold miners, not a single entity in that category will be allowed to continue to operate in their (invariably-corruptly-obtained) concessions. Definitely not.
Furthermore, it is time Ghanaians understood that the brutal reality we must all face, is that players in that sector of our national economy are amongst the most dishonest and corrupt entrepreneurs, in Ghana's private-sector. And I have lots of empirical evidence on the ground at Akyem Juaso to prove it as we speak. We must not allow small-scale miners to use excavators under any circumstances in this country - or, over time, they will definitely decimate what is left of our nation's natural heritage: priceless natural capital on which we could anchor a thriving ecotourism industry.
The question is: If Thailand earned as much as U.S.$72 billion last year from its tourism sector, from the 31 million visitors it hosted in 2016, why should we allow a relatively small number of gold mining businesses often owned by ruthless and super-wealthy crooks, to destroy our natural environment on which we could anchor a thriving revamped tourism sector? Are we fools to do so?
No! No! No! No! And thank goodness that today we have a president wise enough to understand clearly the existential threat posed to future generations of our people by the ruinous activities of the criminal syndicates responsible for illegal gold mining, illegal logging and illegal sand-winning across Ghana - a determined leader tough-minded enough to unleash the coercive power of the Leviathan that is the Ghanaian nation-state to confront those foolish, selfish and arrogant criminals.
Tourism, a more suitable alternative to gold mining, creates wealth that stays in Ghana and can generate millions of jobs across the nation for our younger generations. That is the sustainable alternative we must pursue as a people to ensure a sustainable future for our country and its people. Full stop.
Above all, tourism is sustainable and helps to protect the natural environment - key parts of the United Nations Sustainable Development Goals (UN SDGs) initiative that we are committed to as a nation. And we must also not forget that Ghana's leader is co-chair of the 16 eminent global personalities chosen to see to the implementation of the UN SDGs by all the nations in the one biosphere that all of humankind calls home.
Finally, tourism also provides an incentive for Ghanaians to preserve our cultural heritage. For all the above reasons let us ban small-scale gold mining that deploys excavators permanently. Enough is enough. Haaba.