October 7, 2017
|
Feature Article
An Open Letter To Hon Kennedy Adjapong MP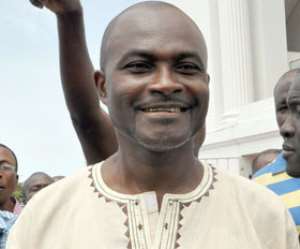 Honourable,
I shall go straight to the point. Every patriotic Ghanaian ought to support President Akufo-Addo's efforts at creating a private-sector that is dynamic and innovate - and thus able to enable Ghana to achieve all the United Nations Sustainable Development Goals (UN SDGs).
For patriotic reasons, I have been critical of you in many of my articles, over the years. But then we are all imperfect beings, after all, are we not? Despite all your faults, it is a blessing to Mother Ghana that there are fearless politicians such as yourself, who are keen to plug all the loopholes through which white-collar criminals in the public-sector and their private-sector collaborators regularly siphon off taxpayers' money in public procurement deals.
In light of that noble commitment of yours, I am appealing to you to intervene quickly to get the vice-president to stop Ghana from paying out U.S.$2.5 million to the Damsoman-based technology start-up that is said to be providing Ghana with a digital addressing system. Honorable, the fact of the matter is that a far less expensive alternative is available from the original inventors of the system, what3words.
All Ghana need do in their case is simply to pay for using the what3words code. So, why burden hapless taxpayers yet again (under a regime that says it is committed to getting the nation value for money in every public procurement contract it enters into), particularly when we can save Mother Ghana from needlessly paying out U.S. $2.5 million?
Please ensure that the relevant parliamentary committee acts swiftly in this matter to halt the deal with the said Dansoman technology start-up - so that the committee has time to talk to what3words directly to enable them compare the two systems and find out what using what3words' digital addressing system will cost Ghana.
As it happens, it is being used by Nigeria's federal postal service, and by the governments of Togo and the Ivory Coast. Ditto by many international NGOs and multinational companies in Ghana as we speak. Indeed, it is fast becoming a global digital addressing system.
Honourable, the question is: If the what 3 words digital addressing system can be downloaded for free as an app by every Ghanaian with a modern mobile phone, is it not crucial that the nation does actually consider adopting it for value-for-money reasons - particularly as Ghana only has to pay for the code to enable it use it as a national digital addressing system? Haaba.
We rest our case.
Yours in the service of Mother Ghana,
Kofi