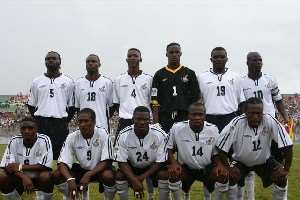 Ghanaians in Freetown have raised an amount of $2500(Two thousand and five hundred dollars)to support the campaign of the national football team Black Stars to qualify for the next World Cup in Germany.
The amount was realised at a special dinner hosted by the High Commissioner of Ghana to Sierra Leone, H.E. Kabral Blay-Amihere last Thursday as a practical manifestation of the recent declaration of OPERATION SIX POINTS by His Excellency John Agyekum Kufuor, President of Ghana.
The event was attended by 30 people, including Ghanaian residents in Freetown,and others on a working visit. A special guest at the dinner was Mr. Ben Kuofie, former Chairman of the Ghana Football Association, now working as a FIFA Consultant. Also present were Mr. Berfi Appenteng, Managing Director of Graphic Communications Limited,Mr. Bennee Armah Hanson, also of Graphic Communications, Mr. Charles Adu Boahen, a Ghanaian banker based in South Africa and Mrs Zuwera Mohammed,Office Manager ACCA(Ghana Branch) as well as a cross section of the Ghanaian community in Freetown.
Speaking at the fundraising dinner, High Commissioner Blay-Amihere said that the declaration of OPERATION SIX POINTS by President Kufuor aimed at mobilising both the financial, moral and spiritual support of Ghanaians in Ghana and outside to ensure that the Black Stars fulfilled Ghana's longstanding determination to play at the senior level in FIFA's most prestigeous tournament.
He said the current crop of players under Skipper Stephen Appiah has demonstrated its commitment to take Ghana to the next World Cup and therefore deserved the support and prayers of all Ghanaians.
He said the fundraisng dinner in Freetown was one practical way of encouraging the national team to know that the Ghanaian community in Sierra Leone and the whole nation are behind them.
He paid special tribute to the small Ghanaian community in Sierra Leone for their patriotism as exhibited through their contribution to the DOLLAR A MONTH FOR GHANA FUND.
High Commissioner Blay-Amihere said that Ghana's qualification for Germany 2006 constituted a rallying point to unite the nation, adding our participation in thw World Cup will boost the image of Ghana and tourism as it did for Senegal.
He reiterated the Government's commitment to ensure that the Black Stars clinch all the six outstanding points with clear goal superiority and called for massive support for OPERATION SIX POINTS.
Mr Ben Kuofie in his remarks said that the Black Stars had every chance to finally make it to the World Cup and commended the Ghana High Commission in Freetown for its initiative in mobilising the support of the Ghanaian community in Sierra Leone for the Black Stars.
According to the experienced former national coach coach and former GFA Boss, the Black Stars will be most encouraged by the support.
He also said Ghana stood to gain tremendously if it qualifies for the next World Cup, describing the mood in Ghana after the historic defeat of South Africa as moving and exciting.
Below is the list of those who kindly donated to the OPERATION SIX POINTS FUND launched in Freetown: H.E. Kabral Blay-Amihere Mr. Eric Asamany Mr. Benson Poku Adjei Mr. Jerome Tabiri Mr. Martins Apraku Kusi Mr. Nestor Galley Mr. Clarence Edusei Mr. & Mrs. Anthony Langlah Mr. James Sackey Mr. Kofi Poku Manu Mr. Seth Anipa Mr. Charles(Kofi) Adu Boahen Mrs. Zuwera Mohammed Mr. Seth Adu Baah Mr. Joseph Owusu Ansah Mr. Salifu Alhassan Mr. Eric Osei Mr J. Bartels-Kwodwo Mr. E-B. Asare-Asiedu Mr. Moses Sangmortey Mrs. Mabel Coleman Ghanaian Police Officers serving with UNAMSIL