100 Vehicles Impounded Over Evasion Of Duty Charges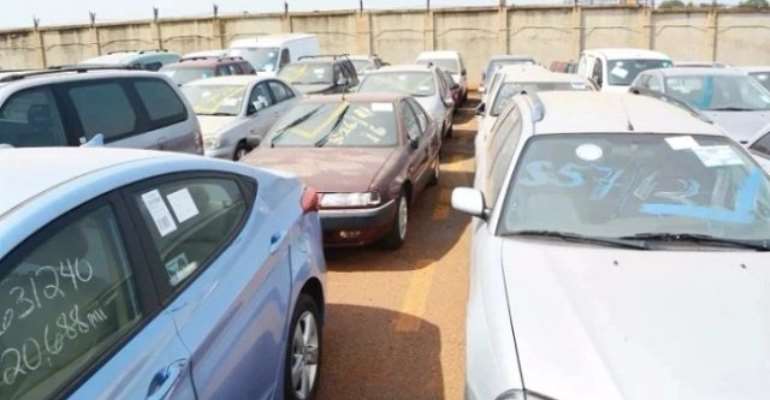 The Ghana Revenue Authority (GRA) has confiscated about 100 vehicles across the country for non-payment of customs duties, with the promise to do more.
GRA Commissioner-General, Emmanuel Kofi Nti said the presence of the vehicles in the country is illegal because the necessary permits were not procured.
At a news conference in Accra Thursday, the GRA boss said the owners of the vehicles have violated Section (55) subsection (1) of the Customs Act (Act 891).
He noted the law mandates persons who import vehicles into the country to pay import duties on them, a failure of which amounts to a breach.
Mr Nti said the Authority will vigorously intensify its surveillance exercise to seize all vehicles whose owners have evaded tax payment.
Statistics show that the number of vehicles on Ghana's roads have shot up from one million in 2001 to more than 1.5 million in 2015.
But the GRA believes most of these vehicles were smuggled into the country through unapproved routes.
GRA Director of Communications, Kwesi Bobo Ansah told Evans Mensah on Top Story that many people take advantage of ECOWAS 90-day protocol to evade tax payment.
He said these people bring in their vehicles and instead of paying the customs duties after the 90 days, they try to shortchange the system.
"All that GRA is asking you to do is that after the 90 days if you want the car to remain in Ghana you will go and pay," he said.
A car dealer, George Opoku Boateng confirmed that some of his colleagues deliberately bring in vehicles from Nigeria, Togo, and Benin to take advantage of the system.
He explained that instead of sending the vehicles back to the respective countries at the end of the three-month ECOWAS Protocol, they end up using Ghanaian plate illegally.
Mr Boateng believes the action by the GRA will bolster the confidence of Customs officials to ensure that no vehicle escape their notice at the various checkpoints.
Story by Ghana| Myjoyonline | Austin Brakopowers