'Develop Interest In Technical/Vocational Skills Since They Are On High Demand'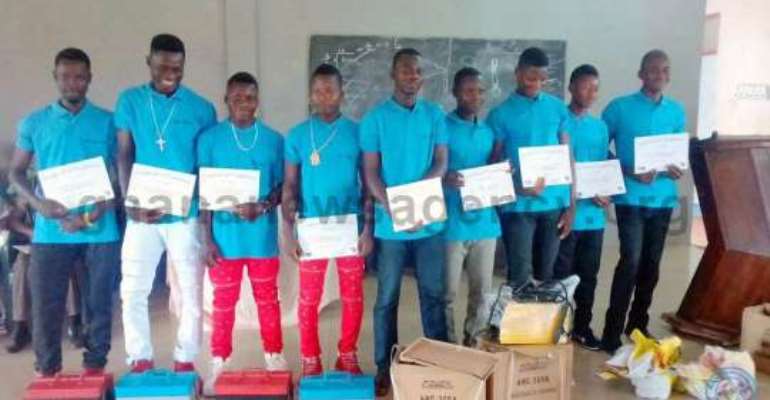 Kortorkor (V/R), Oct. 03, GNA - Mr Benedict Lamptey, the Technical Director of Che-Africa, a Non-Governmental Organisation, has challenged young people to develop interest in the technical and vocational skills, which are on high demand in the global job environment.
Mr Lamptey was addressing the NGO's second annual graduation ceremony for 10 young men who completed a year's training as part of a three-year schedule at the entity's Kortorkor base, near Tokpo in the North Tongu District of the Volta Region.
He said Che-Africa's focus was to make the youth employable to reduce frustrations and its resultant 'violent outcomes'.
Mr Lamptey urged them to consider venturing into the fast and lucrative fibre glass technology emerging in Africa to enhance their lots.
Mr Daiwan Song, a Korean Philanthropist and his American wife, Kathleen Ann, who established the NGO in 2015, said the Organisation operated within the rural development concept and appealed for support from stakeholders.
He said scholarship schemes were being considered for needy children in Kortorkor to keep them in school and also train those interested in agro-processing and Information Technology and fish farming.
Mr Song said facilities at the Technical-Vocational Centre were also being expanded to admit females.
Mr Fred Agyeman, the Director of Youth Employment Authority, North Tongu District, commended Che-Africa for supplementing Government's efforts at equipping the youth with employable skills and pledged the commitment of the Assembly to the programme.
The Centre has two staff quarters, a football park, general workshop and 28-capacity boarding facility among others.
The beneficiaries had lessons in English Language, Mathematics, Socialisation, Carpentry, Welding, Electrical Engineering, Fibre Glass Technology and Mechanism.